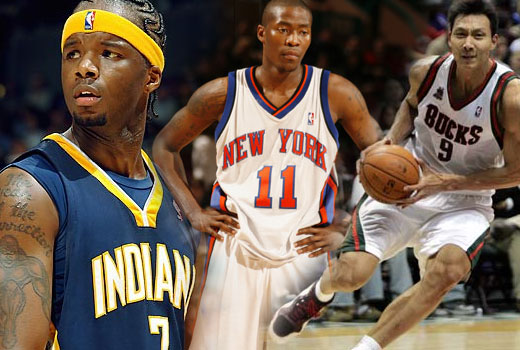 June 5th, 2008 – Dr. Dime
Every year around this time the trade rumors start taking flight with the anticipation of the NBA draft. With the exception of the mid-season trade deadline, there is nothing better than the pre-draft workouts to get NBA team executives thinking long and hard about the future of their franchise and their current roster makeup. The creative juices start flowing in front offices and trade possibilities create ample fodder for NBA media and fans alike.
This year the rumors have probably been more rampant than most with many hot discussions taking place on several trade possibilities. The rumors started flying as soon as the season's end was upon us. A lot of this was sparked by the musical chairs taking place in the coaching ranks, and the anticipation of the roster moves that may be necessary to accommodate a new coaching style and philosophy.
In no way, shape, or form do The Hoop Doctors believe most of the trade rumors will actually come to fruition. However, we do keep our ear to the ground and every now and then try to hit up our contacts on the business side of basketball for tidbits of what talks might be happening. We are a bit limited in that most of our contacts are in the New York area, but from time to time we get friend of a friend call or email on something that is brewing around the league. We also work hard for you, our readers in monitoring the mainstream and online media sources.


So with that said, as the buzz continues to grow on certain trade scenarios I will let you readers know. Some of the trade possibilities with more audible noise signals we have been hearing as of late are:
Jamal Crawford or Rip Hamilton to the Raptors

Ever since the New York Knicks hired Mike D'Antoni as their new head coach, the talk about town has been who will stay and who will go on the roster before the start of next season. There is no doubt that the new GM Donnie Walsh and new Head Coach Mike D'Antoni will want to put their stamp on this team immediately. I doubt this will mean a fire sale, but it will definitely mean they are working the phones to break up the old New York Knicks and create a new and hopefully much improved version.
Some talk that is starting to pick up steam is the Knicks interest in one of the two starting point guards of the Toronto Raptors. It is fairly clear the Knicks are writing off Stephon Marbury as their point guard of the future. Everyone in the league is aware of the situation in Toronto where their experiment of holding two starting caliber point guards, TJ Ford and Jose Calderon, on the same roster this season failed miserably. With Bryan Colangelo at the helm you can be sure a deal for one of the two point guards will get done before next season. Although Mike D'Antoni would clearly rather Calderon, due to his similarities in playing style to Steve Nash who was the epitome of D'Antoni's system, most analysts are leaning towards Toronto moving the high energy scoring point guard TJ Ford. Although most teams in the league are going to try to low-ball Toronto on their offers for Ford, their obvious need for a more high profile swingman may lead to a deal Ford. Word on the street is that the Knicks are looking to offer up shooting guard Jamal Crawford and possibly one of their rebounding big men, if the Raptors will send them TJ Ford and one or two expiring contracts. Apparently the Knicks are currently collecting expiring contracts wherever possible so they can make a run at Lebron James in 2010 when he becomes a free agent.
On a lighter note another rumor that may be a bit more far fetched as it would require a couple of "if this happens", then "this could happen" type situations. There is a rumor circulating that the Raptors GM Bryan Colangelo is trying to get his hands on Richard "Rip" Hamilton to fill their lack of scoring power at shooting guard. What do the Raptors have to offer Detroit? Not too much, but they do have some attractive expiring contracts in Jorge Garbajosa, Joey Graham, Rasho Nesterovic, and Anthony Parker. Considering Detroit and Joe Dumars are looking to rebuild after another Eastern Conference Finals loss, expiring contracts might be valuable to them to go after a big name free agent. In my view however, for this to actually happen the Pistons would have to be in need of a point guard so TJ Ford could be included in the deal to make it legitimate for both parties. If Dumars blows the roster up and moves Billups, Rasheed Wallace, and Tayshaun Prince, then who knows a young scoring point guard like Ford may match up nice with Pistons youth rally, Rodney Stuckey and Amir Johnson?
Yi Jianlian to the Warriors
I wouldn't hold my breath, but there has been some discussion as of late whether or not the Golden State Warriors are going to once again go after Yi Jianlian before the draft. You'll remember last year the Warriors traded Jason Richardson to the Bobcats at draft time to get the Bobcats pick, Brandon Wright. What has since emerged for the Bucks is a conflict at the PF spot where they have two similar players in Charlie Villanueva and Yi. Both are long, athletic, and can step out and shoot it from long range. Charlie V was clearly the better player of the two this year, and the Bucks may want to round out their team by trading Yi to the Warriors for one or two players and their first round draft pick. The Bucks have a good young core, and are one or two pieces away from being playoff bound in the Eastern Conference.
Jermaine O'Neal to the Cavs
Jermaine O'Neal's representation has been making waves as of late by saying their client expects to be traded this summer, and would prefer that trade be to join the continually rising star Lebron James in Cleveland. Although the trade would surely be welcome by James who so obviously lacked a good offensive supporting cast in the Eastern Conference playoffs, O'Neal's contract is so bloated it makes him difficult to move. The Cavs have a few expiring contracts they can offer such as Wally Szcerbiak and Eric Snow. The Cavs may even be willing to pay the hefty cash on O'Neal's contract to get the past All-Star in hopes of showing King James they are committed to helping him get the championship he covets. Although O'Neal has been hurt regularly the past two seasons, word is that he is on the mend and expects to get back to his All-star form before next season. When you think about it, he is not that far removed from being considered regularly in league MVP talks.
Dwayne Wade to the Bulls
When it comes to crazy nonsense in the rumors department, this one has to take the cake. Dwayne Wade to be traded to his hometown Chicago Bulls in exchange for the #1 pick in the 2008 NBA Draft + contracts. Although ESPN in this article makes a legitimate case for why the deal may actually be beneficial for the Heat for their future, it's not going to happen! I would agree that it may indeed be beneficial for both parties, but if for some reason it turned out bad for the Heat they would never be able to shed the label of the team who made the craziest trade in NBA history by trading away Dwayne Wade before he even hits his prime. It's not going to happen folks! (But I would agree its still fun to think about)
Have you heard a trade rumor lately that might have legs? Share it with our readers in the comments section below!