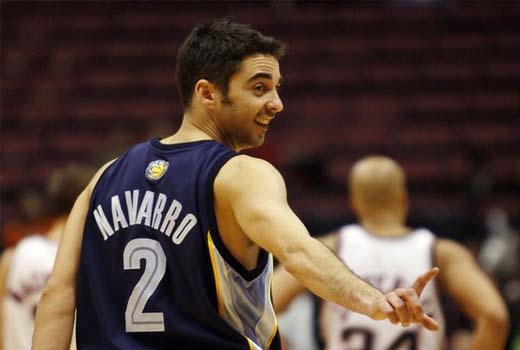 June 28th, 2008 – Dr. J-Water
I wasn't overly surprised to hear the rumor that Jorge Garbajosa was on the outs with the Toronto Raptors and may return to play basketball professionally in Europe, following the debacle over rehabbing his leg injury. Then news of Juan Carlos Navarro heading back to Spain to once again play for Barca in the ACB took me by surprise given his fairly smooth acclimation to the NBA game during his short stint with the Memphis Grizzlies. But if that was surprising, then the rumors circulating about American player Anthony Parker of the Toronto Raptors receiving a contract offer of $24 MILLION over three years from the Greek professional team Olympiakos was a total shock. Apparently they were even willing to buy out the remaining $4.5 million of his current contract with the Toronto Raptors.


We all remember that first Team USA Olympic 'Dream Team' in 1992 with Michael Jordan, Magic Johnson, Larry Bird, Charles Barkley, David Robinson, Clyde Drexler, Patrick Ewing, Karl Malone, John Stockton, Scottie Pippen, Chris Mullin, and Christian Laettner. Sure I didn't need to just list every player on the team, but given the annihilation they gave every international team they faced at those Barcelona Olympic Games, they all deserve mentioning. That dream team opened up leads of 20, 30, 40, 50, and more like it was nothing. Although those days of cruising to victory by such wide margins are clearly behind us, Team USA proved last summer in the FIBA Americas qualifying tournament that when the good ol' boys stay focused and play as a team, the USA is still the team to beat.
But there is still no denying how much the quality of play internationally has picked up over the last couple decades. And as expected with that skill development the world over, comes an increase in fan base and viewership globally of the world's greatest league where the greatest players play, the National Basketball Association. But something unexpected happened, and it happened in unison with the growth in global fan base for the NBA. It was the expansion and rapid growth of the market for reputable and legitimate local professional basketball leagues all across Europe and many other locations throughout the world. As advertisers (which include many multi-national and large US corporations) started to pick up on the growth potential of this market, not only sponsorships but also the rest of the media infrastructure started to form around the major leagues, such as Euroleague. Eurobasket.com (a website network covering news on just about every pro and semi-pro league internationally) is claiming to be currently monitoring a whopping 526 pro basketball leagues.
At some point for international fans it became insufficient to watch the NBA games by satellite TV, or follow the news on their favorite NBA players and teams through web based communications. International fans wanted something they could see, feel, and touch, up close and personal. Europeans for example wanted an infusion of hype and skills that would ensure the game was legitimate, competitive, and something they could be passionate about. As the popularity of the game grew, and the skills of the domestic players began to increase dramatically (chicken or egg?) all of a sudden there was a significant pay check to be made playing basketball overseas. In the last decade the number of US players who did not make the final hurdle to the NBA, and moved overseas in search of a professional basketball career has risen dramatically. Many of the top players in the European leagues have been making surprisingly lucrative salaries for the past 5-10 years.
For some of you that follow the international leagues closely, none of this is probably all that new. But there is a very new and strange phenomenon brewing. International professional basketball players are starting to turn down contract overtures from NBA franchises in record numbers to either stay in European or other foreign leagues, or to return home for competitive salaries (if not more) to what they were given in the NBA. Putting solely money aside for a minute though, it must still be worth making the move to the USA for all the potential fame, prestige, and status that comes along with being a player in the greatest basketball league on earth right? Maybe not. In many European leagues now, the star players are treated virtually like rock stars. These guys have it all. The big contracts, the endorsements, the fans, the women…etc.
Peter May wrote a recent post on Hoopshype.com that stated his opinions on why NBA franchises weren't focusing as much time and energy in the last couple of years on acquiring the international star players as they have in previous years. Even though he believes that the international players "star is dwindling," I believe there may be an exact opposite phenomenon at work. It's the international players that are shining bright and the lure and draw of the prestigious NBA game may be "dwindling" in the eyes of the European players. An aspiring professional basketball player in Europe can now stay at home with their family and friends, and still achieve the fame and fortune that was once only possible by moving across the Ocean and starting a whole new life in the USA.
Is this just an anomaly, or are we going to see a dramatic decrease in the high profile international basketball talent coming to America to play in the NBA? In a few years will players such as Dirk Nowitzki, Pau Gasol, Manu Ginobili, and the like just stay in their home country and play professionally in front of their countrymen on a nightly basis? NBA Commissioner David Stern may have pondered this same question from time to time. Like any smart businessman would do, I am certain Stern has dedicated countless hours to benchmarking his competition (various international professional leagues) in an effort to ensure the NBA remains the best professional basketball league in the world. And just like virtually all industries are doing these days, Stern undoubtedly has plans to grow the NBA into the blossoming international market and become a true "international league" with franchises located all across the globe. But how far into the future are we talking about? 20 years, 10 years…..5?
So will the NBA be devoid of European superstars in 5 years? Or possibly harder to fathom, maybe the 2018 NBA Finals will be held in China?