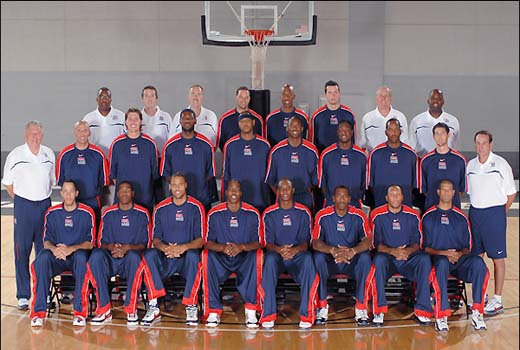 June 23rd, 2008 – Dr. Anklesnap
Today is the day where Olympic aspirations and dreams come true. Or on the other side of the coin they are put off for another four years. At some point this morning Team USA Managing Director Jerry Colangelo and Head Coach Mike Krzyzewski will hold a press conference to announce the 12-man roster for the August 2008 Beijing Olympics. How do you pick only 12 players out of the 33 man US select roster pool of NBA superstars?
After another gruelling NBA season we have already seen a couple of players pull their names from the potential roster, and others cancel due to injury. That might make the decisions for the selection crew a tad bit easier, but they still need to cut the field by more than 50%. I have noticed a recent flurry of local newspapers running stories on how their home team franchise players are expecting to be chosen to play. The problem is I've read more than 12 articles with such claims (remember only 12 players chosen, total), and some local journalists are even claiming two players from their team to be making the cut. The truth is no one will know for sure until the press conferences this morning to announce the team.


Given the 33 man roster to choose from, and in light of recent injury news; here are Dr. Anklesnap's choices for who I would send to Beijing 2008:
(Alphabetical)
1. Carmelo Anthony, SF
2. Carlos Boozer, PF
3. Chris Bosh, PF/C
4. Kobe Bryant, SG
5. Tyson Chandler, C
6. Dwight Howard, C
7. Lebron James, SF
8. Chris Paul, PG
9. Paul Pierce, SG/SF
10. Michael Redd, SG
11. Dwayne Wade, SG
12. Deron Williams, PG
Who would you choose to represent the United States of America in Beijing 2008? Comment with your suggestions, and see how your predictions stack up later today when the official announcement is made.