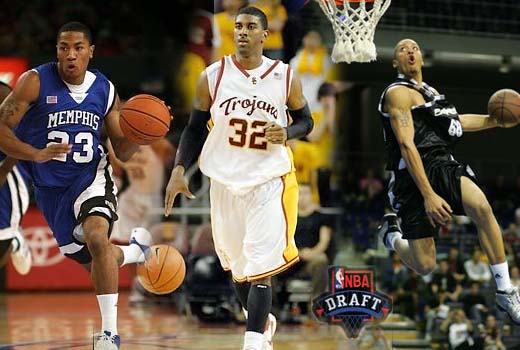 June 19th, 2008 – Dr. Dime
For more Mock Drafts from all sorts of Blogs and Analysts check out our NBA Mock Drafts Database!
The NBA Draft 2008 is only 1 week away (June 26th). After having personally attended 3 NBA pre-draft workouts over the past couple weeks, and after many changes being announced regarding who has entered and who has now pulled out of this year's draft, I felt it was necessary to give The Hoop Doctors a more recent and updated voice than our previous Mock Draft. These are only my choices and not the consensus picks of all of The Hoop Doctors writers.
Draft Order
Team
Projection
Position
Stat Line

1.

Chicago
Bulls

Derrick Rose
PG
14.9ppg, 4.7apg, 4.5rpg
The more I think about it, the more I read about it, and the more I see Rose play, I realize there is no way John Paxson is not going to take Derrick Rose with the #1 pick. This one is in the books folks. Rose is too quick and skilled at the point for his size to justify passing. Add his hometown connection and the Bulls need for a leader (not Hinrich) to man the point and it is solidified.
College Team – Memphis

2.

Miami
Heat

Michael Beasley
PF
26.2ppg, 12.4rpg,1.6bpg
I keep hearing how Pat Riley doesn't like Beasley's personality. B.S. Riley is the master of disguise. We all know the Miami Heat desperately need and want a power forward of Beasley's caliber in the front court to match with DWade's backcourt skills for the future of the franchise. This sort of balance and one-two punch could turn out to be what is necessary to make the Heat a perennial favorite. Think about it, if he trashes Beasley's work ethic and attitude and Paxson passes on Beasley Riley gets exactly what he wants. This summer look for Riley to move one of his assets for a legitimate point guard. College Team – Kansas State

3.

Minnesota Timberwolves

O.J. Mayo
PG
20.7ppg, 3.3apg, 4.5rpg
I know the New York Knicks are praying with all of their might that this cat drops to them in the draft. It's not going to happen Donnie, sorry. O.J. may not be an immediate impact player in the NBA, but his upside is too big to ignore. The TWolves have got to draft based on potential given they are rebuilding for the future anyway. College Team – USC

4.

Seattle Supersonics

Jerryd Bayless
PG/SG
19.7ppg, 4.0apg, 2.7rpg
Bayless could put an end to the point guard debate in Seattle once and for all. The beauty of Bayless for the Sonics however is he could be a legitimate shooting guard for the future if they do end up with a log jam in the back court. Guys who can play multiple positions like this are a huge asset. College Team – Arizona

5.

Memphis Grizzlies

Kevin Love
PF
17.5ppg, 10.6rpg,1.4bpg
Kevin Love has increased his value significantly in pre-draft workouts. If he isn't already taken there is no way the Grizzlies can pass on this guy to solidify their needs in the front court. He may even be able to log a few minutes at the 5-spot. College Team – UCLA

6.

New York Knicks

Eric Gordon
PG
20.9ppg, 2.4apg, 3.3rpg
It's fairly well known at this point that the Knicks would love OJ Mayo, but unless the Knicks make a last minute trade to move up in the draft they are still going to need that point guard for the future. If they stay at the 6 pick, look for them to take a very serviceable PG in Gordon. College Team – Indiana

7.

LA Clippers

Russell Westbrook
PG/SG
12.7ppg, 4.3apg, 3.9rpg
The Clippers need a point guard. There is no guarantees that Shaun Livingston will be the same once he returns to the court. I expect the Clippers to take Westbrook, who had great workouts, as an insurance policy on Livingston. College Team – UCLA

8.

Milwaukee Bucks

Joe Alexander
PF
16.2ppg, 6.1rpg
In a matter of weeks, this guy has catapulted his rank in the mock draft to the top. The discussions lately about the draft almost always discuss Alexander going in the top 10. Its amazing what good workouts and interviews can doyou're your status. College Team – West Virginia

9.

Charlotte Bobcats

Danilo Gallinari
SF
14.9ppg, 4.2rpg, 1.7apg
If Tyler Hansborough didn't decide to head back for another year and UNC, we would have to assume MJ would have been lobbying for him. Although Danilo is young and a bit raw, he has that international experience that allows him to play beyond his years already. Huge upside potential. Recently confirmed he will be in the draft. College Team – None

10.

New Jersey Nets

Brook Lopez
C
19.3ppg, 8.2rpg, 2.1bpg
Great big man, could arguably go higher, but I just didn't see any player in my top nine that I thought he would be a better choice than. I expect he will be an immediate impact player for New Jersey whose major weakness is the 5 spot. College Team – Stanford

11.

Indiana
Pacers

DJ Augustin
PG
19.2ppg, 5.8apg, 1.2spg
Dropped a bit due to recent concerns in workouts about his size and height. I expect the Pacers will grab him at 11 if he slips that deep, because they are really weak at the PG when Tinsley keeps getting injured. Could be a sparkplug for the team off the bench. College Team – Texas

12.

Sacramento Kings

Anthony Randolph
PF
15.6ppg, 8.5rpg, 2.3bpg
The Kings are weak on their front line. Although Randolph is thin, his skills and upside are huge. With Ron Ron roughing up the 1-3 spot with his defense, look for Randolph to be a great weak side shot blocker. College Team – Louisiana State

13.

Portland Trailblazers

Donte Green
SF
17.7ppg, 7.2rpg, 2.0apg
It's almost unfair for the rest of the NBA that the Blazers are getting another high pick. This team in 3-4 years will be so good it's scary. Think of a lineup of Oden, Aldridge, Green, Webster, and Roy. Wow! College Team – Syracuse

14.

Golden State Warriors

JaVale McGee
C
14.1ppg, 7.3rpg, 2.8bpg
The missing piece to this offensive juggernaut, the Warriors, is clearly a quality big man. Why do you think the Warriors tried to bring Webber out of retirement? They realize they are weak up front and will pick up McGee to fill that void if he is available. College Team – Nevada

15.

Atlanta Hawks to
Phoenix Suns

Robin Lopez
PF
10.2ppg, 5.7rpg, 2.3bpg
Here is a guy that has raised his value in workouts. Listed as PF, but at 7'0" he might be a better resource as a backup C for the oft injured Shaquille O'Neal. Hard worker, easy to coach, and could be a good role player for the Suns who need a good presence when Amare and Shaq are in foul trouble. College Team – Stanford

16.

Philadelphia 76ers

Kosta Koufos
C
14.4ppg, 6.7rpg, 1.8bpg
With all the guards and swingmen, the 76ers are really weak on their bench in backing up the bigs. God forbid Dalembert ever got injured the Sixers would have absolutely noone in the paint. Look for Kosta to get picked up and used in the rotation. College Team – Ohio State

17.

Toronto
Raptors

Brandon Rush
SF
13.3ppg, 2.1apg, 5.1rpg
Here's a guy that might shock the world and go even higher. The sky is the limit for this guy. When he stays focused on both ends of the floor, he is arguably one of the most talented players in this draft. Should fit in quite nicely with the Raps who lack scoring at the SG/SF spots. College Team – Kansas

18.

Washington Wizards

DeAndre Jordan
C
7.9ppg, 6.0rpg, 1.3bpg
Good wingspan, big guy at 7'0", he is likely to be a Wizards pick up who are really weak offensively at the 5 spot. Haywood plays big on defense, but is a non-factor on the offensive end. If coaching staff can develop his post game and footwork he could be an offensive threat. College Team – Texas A&M

19.

Cleveland Cavaliers

Darrell Arthur
PF
12.8ppg, 6.3rpg, 1.3bpg
If the Cavs pick up Arthur he will have the pleasure of playing with an amazing drop passer in LBJ. When Lebron slashes and is swarmed, Arthur can be a big time threat on the drop pass. I think the Cavs may try and trade up, but if they keep this pick Arthur is a solid choice. College Team – Kansas

20.

Denver
Nuggets

Nicolas Batum
SF
8.5ppg, 3.5rpg, 2.7apg
Very athletic, doesn't need a lot of touches to contribute. This is exactly the type of player needed to play with Allen Iverson. Remember the Sixers Finals Run? This is the type of personality required to mesh well with A.I. Could be a good back up for Melo. College Team – None

21.

Dallas
to
New Jersey Nets

Courtney Lee
SG
20.4ppg, 4.9rpg, 2.1apg
Exciting, quick, high scoring combo guard. Would be tough to crack the rotation in New Jersey with Carter and Jefferson, but those two guys are oft-injured and rumor has it one of the two may be moved before next season anyways. College Team – Western Kentucky

22.

Orlando Magic

J.J. Hickson
PF
14.8ppg, 8.5rpg, 1.5bpg
Hardnosed player that loves to pound the offensive glass. With him and Dwight in the paint, I wouldn't want to be taking it to the cup. Could be a good energy role player for the Magic. Another one to add to their list of tough rebounders. College Team – NC State

23.

Utah Jazz

Roy Hibbert
C
13.4ppg, 6.4rpg, 2.2bpg
Tough, smart, and competitive. The perfect fit for a Jerry Sloan team. Utah has a lot of bigs that play more of a mid to long range game, so the addition of a true center would be a welcome sight for the Jazz. College Team – Georgetown

24.

Phoenix Suns
to
Seattle Supersonics

Marreese Speights
C
14.5ppg, 8.1rpg, 1.4bpg
Great post player. He is a bit undersized at Center, but would be a great addition in Seattle who are pretty weak on their front line, with very poor rebounding performances. College Team – Florida

25.

Houston Rockets

Chris Douglas Roberts
SG
18.1ppg, 4.1rpg, 1.8apg
This guy has dropped big time on most team's radars in recent weeks. I can't exactly put my finger on why, but he has been outperformed in pre-draft workouts, and will be a steal for the rockets if he falls this deep. College Team – Memphis

26.

San Antonio Spurs

Alexis Ajinca
C
International
7'1" tall with a ridiculous wingspan. He's from France and just as most European's has great fundamentals. We have him at 26 now, previously at 29 on our first edition, but as the June draft date nears you may see this cat move up as high as the top 15. He seems to be raising more and more eyebrows with his play. College Team – None

27.

New Orleans Hornets

Mario Chalmers
PG/SG
12.8ppg, 4.3apg, 3.1rpg
As we saw two years ago, without CP3 the Hornets go from one of the better teams in the West to one of the worst. Look for the Hornets to pick up a serviceable PG in the draft as insurance. College Team – Kansas

28.

Memphis Grizzlies

from Lakers

Devon Hardin
C
9.3ppg, 7.4rpg, 1.2rpg
With two picks in the first round the Grizz have a great opportunity to drastically improve their front line for the future. Big body, hard worker, look for Hardin to go to the Grizz. College Team – California

29.

Detroit Pistons

Jason Thompson
PF/C
20.4ppg,12.1rpg, 2.7bpg
Jason is raw as hell. Criticized for poor defensive efforts, and possibly for that reason he has slipped in to the second round on many Mock Drafts around the league. I still think there is tons of upside in the right environment. A team of veterans like the Pistons could be that right place for Thompson to thrive. College Team – Rider

30.

Boston Celtics

Serge Ibaka
PF/C
CB L'Hospitalet
At 6'10", 220 lbs this guy has loads of athletic ability. He is in amazing shape and has a huge wing span to boot. Seems like a very coachable player that would have that team first attitude to fit right in with the NBA Champion Celtics. College Team – None