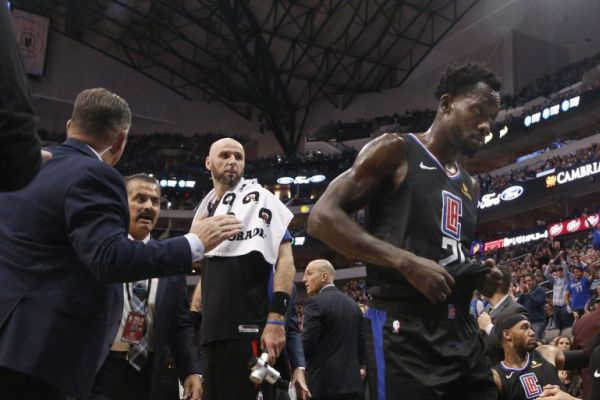 For the first time in his seven-year NBA career, Patrick Beverley was ejected from a game for something he did not against an opponent, but against a fan.
After emerging from a loose ball scrum with a little over 9 minutes left in the game, Beverley got up and threw the ball at a courtside spectator, Mavericks superfan Don Knobler. According to Beverley, Knobler said "F*** your mother" to him. His reaction got him technical foul and his first ejection as an NBA player.
"I just, I can accept the F*** you, Beverley,' the 'F*** you, Pat,' but out of the lines of my mother, anybody who knows me, man, knows I'm a family-first guy, and there's some things that are unacceptable," Beverley told reporters after the game.

"After I told the refs, I told security, the Dallas security, told both of them and again, he said it again. So if no one going to control fans, what are we supposed to do as players?"
Patrick Beverley ejected for throwing ball at Don Knobler pic.twitter.com/YWtw3PnMme

— Rob Perez (@WorldWideWob) December 3, 2018
Don Knobler admitted to having words with Beverley. He said earlier in the game, when Beverley knocked out Smith's tooth, he yelled that he was a dirty player to which Beverley responded. This then prompted Knobler to respond with a comment about his mother. While he admitted to insulting Beverley's family, Knobler insisted he didn't use profanity.
Clippers coach Doc Rivers understood Beverley's frustration, but disagreed with the way he handled things.
"The (fan) said something about (Beverley's) mother. So, still, I told him at the end of the day it's not right, fans should have control, as well, and they shouldn't call you names, especially what I heard he called Pat and said something about his mom, but it's tough," Rivers said after the game, according to Greif.

"I told him this is the life we live and you've got to turn the other cheek even though I know it's hard," Rivers added. "But we can't get technicals, we just have to walk away. And then the league has to take care of stuff like that."
This isn't the first time Beverley has confronted a fan. After a 2017 playoff game against OKC, Beverley, who was then playing for the Rockets, was fined $25,000 by the NBA for a verbal confrontation with Stuart Scaramucci, the son of a Thunder minority owner.