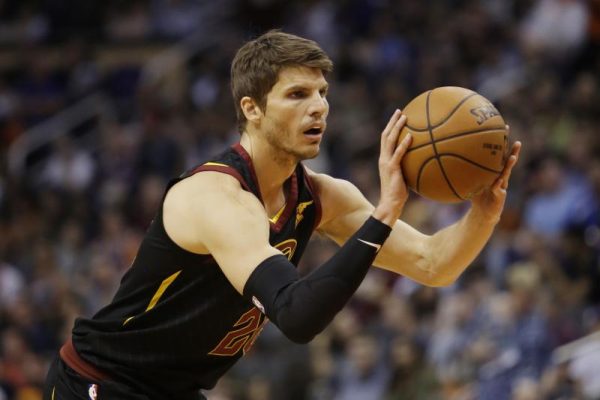 Everything is fine in Cleveland.
LOL, just kidding. It's not. Far from it. The Cavaliers have the worst record in basketball, there seems to be a disconnect between their roster and their intended direction, and the interim head coach, Larry Drew, refuses to accept that he is, in fact, the interim head coach.
Amid all this topsy-turviness, The Athletic's Joe Vardon dropped one helluva piece following the team's shellacking at the hands of the Charlotte Hornets. Among the many nuggets he included was a report that Kyle Korver, per an understanding he had with the franchise, initially asked to be moved from the Cavaliers after LeBron James left for the Los Angeles Lakers:
The first player Altman ever signed to a contract as GM was Kyle Korver. It was a three-year, $22 million deal inked in July of 2017, but it came with an understanding: If LeBron were to leave, the Cavs would either trade Korver or buy him out of the deal so he could move his family to his next team during the summer. So when LeBron left July 1 for the Lakers, Korver asked for the Cavs to move him. They refused because, they told him, they wanted him to play and for the team to try and win. To be fair, in the event of a Korver trade they would want maximum value in return, like a first-round pick. Anyway, the same basic message of competing now was communicated to Kevin Love before he agreed to a four-year, $120 million extension and to rest of the returning players.
This isn't the best look for Cleveland. Sure, they're under no obligation to move Korver if they're trying to win. But they pivoted away from that goal awful quickly. To refute his trade request only to fire their head coach, Tyronn Lue, and lean into a youth movement is pretty embarrassing.
If it's any consolation to Korver, though, he shouldn't be stuck in Cleveland all year. He doesn't have the offseason buffer to relocate his family, but he's guaranteed just $3.4 million in salary next season. Someone will pick him up eventually, perhaps in exchange for a second-rounder (definitely not a first).