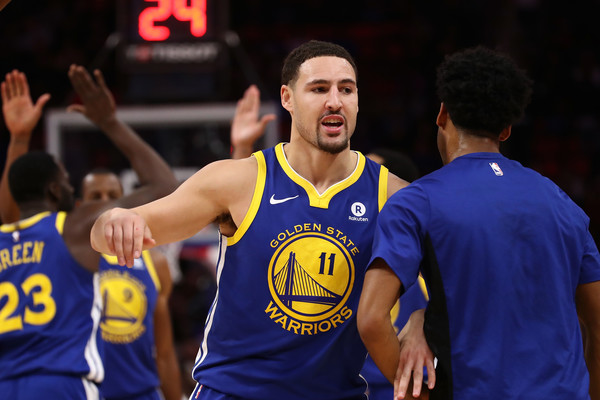 If you started to wonder what Klay Thompson might look like running his own team following his 51-point detonation in under 27 minutes against the Chicago Bulls on Monday, we don't blame you. It would be extremely interesting to see how he fares as the No. 1 option, outside the comfy confines of shadows cast by Stephen Curry, Kevin Durant and, at times, Draymond Green.
With Thompson headed for free agency this summer and the Warriors staring down messy repeater-tax bills, there's a chance the All-Star wing ends up donning a different uniform next season.
Or maybe not.
From The Ringer's Kevin O'Connor:
Thompson will turn 29 this season and will hit unrestricted free agency for the first time in his career next summer. With upward of a decade more of professional hoops remaining, Thompson could decide to wear a different uniform. And were he to hit free agency, it would be at a time when his particular skill set has never been more valued by this league. Every single team has shooting at the top of its wish list. The Lakers would definitely love a shot at pairing him with LeBron James. But the expectation across the league is that Thompson will re-sign with Golden State. Executives I've spoken with said they would be shocked if Thompson left the Warriors.
This is pretty consistent with what Thompson himself has said. Though he's capable of more, he doesn't seem to regret operating in a specific wheelhouse for the Warriors. They've allowed him to attack more off the dribble this year anyway, and he's always seemed content to live in the Bay Area while racking up championships.
It feels like the relationship between player and team would need to sour for Thompson to really consider leaving the Warriors. Like, let's say they ask him to take a discount in his next deal and he's unwilling. That could lead to a departure. Beyond that, it's hard to see this partnership ending anytime soon.