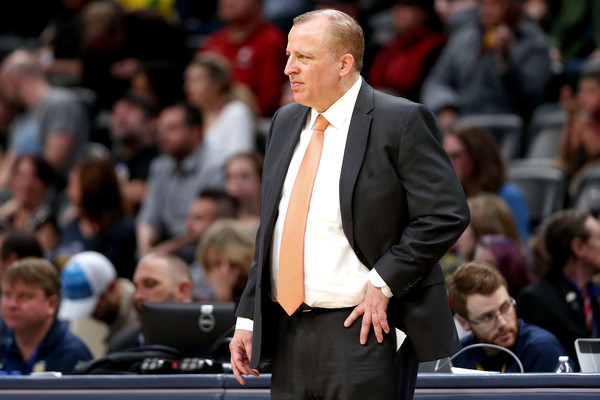 Could the Jimmy Butler saga ultimately end up costing Minnesota Timberwolves coach-president Tom Thibodeau, along with general manager Scott Layden, his job?
It seems so. It might even be a given.
From ESPN.com's Adrian Wojnarowski:
As Philadelphia ramps up its rise into contention, Minnesota is sorting through what's left in Butler's wake. Taylor considered firing Thibodeau and Layden in the summer — well before the Butler situation escalated — and has continued to consider possibilities to eventually replace both of them, league sources said. There's immense pressure on Minnesota's management structure to see dividends on this trade.
If you didn't see this coming, we applaud your blinders.
Though Minnesota's return on Butler—Jerryd Bayless, Robert Covington, Dario Saric and a 2022 second-rounder—qualifies as respectable, the team hardly comes out of this looking anything but terrible. As Woj also noted, the Miami Heat had removed themselves from discussions recently, and they arguably had the superior package when looking at their initial offer of Josh Richardson, Kelly Olynyk and a future first-round pick.
Neither return on Butler would have been ideal. Teams selling off disgruntled superstars in the final year of their contracts almost never win the trade. The Timberwolves were always going to consign themselves to this weird gray area, in which they're neither fully rebuilding nor particularly close to contending. They've tumbled there now.
The standard for keeping Thibs beyond this season is iffy as a result. There's no telling what owner Glen Taylor will prioritize. If he still expects the Timberwolves to make the playoffs, then consider Thibs gone. If he just wants to see some progress and more off-court cohesion, then there's a chance Thibs can save his job. If Taylor wants to steer into a more serious rebuild, then anything can happen. Minnesota has a clear path to being bad, but is Thibs the guy to lead them through a transition, particularly when he rushed the completion of their previous one?
Yes, Butler is gone. He has taken a lot of the Timberwolves' problems with him. But they still have a mess of quandaries to figure out.