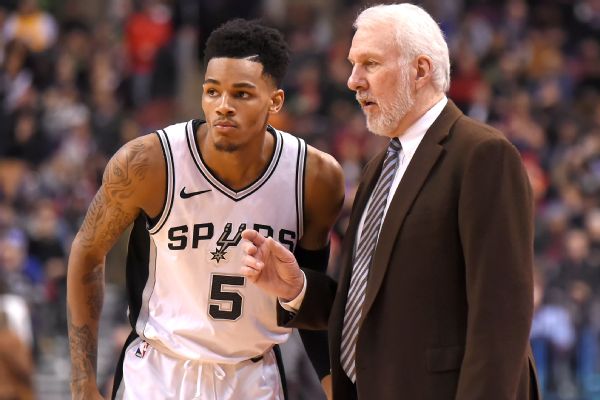 With Dejounte Murray likely done for the season after suffering a tear in his right ACL, the San Antonio Spurs have a gaping hole at point guard to cover up.
Really, the Spurs have holes everywhere. They were already tasked with replacing three of their most important defenders following the departures of Kawhi Leonard, Danny Green and Kawhi Leonard. Murray's absence means they're now down their four best stoppers from last season.
Covering up for their mass wing exits is ostensibly impossible. It could be equally tough to offset Murray's time on the sidelines. He wasn't entering the season as the most polished offensive talent, but the Spurs' defensive rating plunged with him off the floor last season, per NBA.com. On top of that, Tony Parker's departure leaves Patty Mills, Derrick White and Bryn Forbes as their top alternatives.
Despite these relatively thin ranks, though, San Antonio has no imminent plans to add another point guard, according to The Athletic's Jabari Young:
Though the Spurs waived forward Jaron Blossomgame on Monday morning, league sources tell The Athletic that the front office appears to be standing pat. There are currently no signs the Spurs will acquire an additional guard via trade or free agency.

There were rumblings of a possible pairing with free agent guard Jamal Crawford, but those talks did not gain traction.

As of now, the indication is the Spurs will likely elect Derrick White as the starting point guard while continuing to use Patty Mills off the bench.
This shouldn't come as a shock to anyone. The Spurs are not known for making in-season additions. Murray's injury is a justifiable reason to pivot from that approach, but no one they acquire now will be a true game-changer. The free-agent well isn't teeming with impact options, and San Antonio's asset cupboard isn't deep enough to invite a blockbuster trade.
One option the Spurs might consider: Super-big lineups that feature DeMar DeRozan at the 1. He's progressed as an off-the-dribble playmaker over the past half-decade or so, and he should be relatively at home working on the ball. He probably shouldn't soak-up primary table-setting duties for 30-plus minutes a night, but his change-of-pace game is something the Spurs should try parlaying into more half-court initiations.