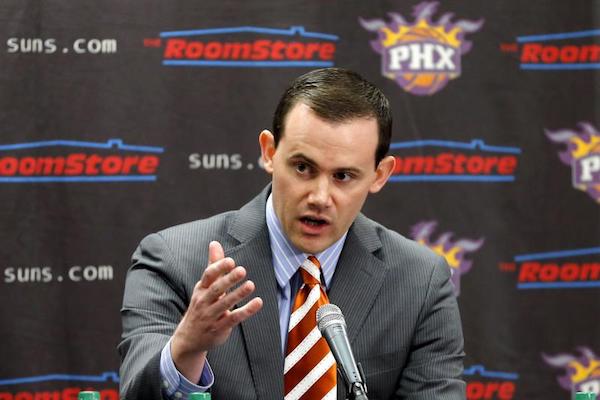 The Phoenix Suns announced on Monday that they have relieved general manager Ryan McDonough of his duties, which sets the stage for a fascinating search for his replacement.
The timing of this move is weird. It comes inside two weeks of the Suns' regular-season opener, long after they've gone through the draft and free-agency processes. It also comes after they allowed McDonough to be part of the hunt for a new head coach. General managers typically aren't given that opportunity if they're on this hot of a seat.
Anyway, though, the Suns already have some potential replacements in mind—including James Jones and Kevin McHale, according to ESPN.com's Adrian Wojnarowski:
Suns announce firing of GM Ryan McDonough. James Jones and Trevor Bukstein will be interims. One candidate to watch long-term: Kevin McHale.

— Adrian Wojnarowski (@wojespn) October 8, 2018
Owner Robert Sarver has become even more involved in day-to-day of franchise. He already had a strong voice in many moves, including past coaching hires. James Jones has become a favorite of Sarver, too. He'll be a GM candidate there. https://t.co/4ytPiv1EhC

— Adrian Wojnarowski (@wojespn) October 8, 2018
Other names will invariably enter the fold. A lot of people are already clamoring for David Griffin, a former member of the Suns front office, to get a crack at the gig. The question is: Are the Suns a desirable employer?
Indeed, they have plenty of young talent in Devin Booker, Deandre Ayton, Josh Jackson, Elie Okobo, Mikal Bridges, et al. But owner Robert Sarver is notoriously difficult to deal with. Given subsequent reporting, it kind of seems like McDonough was at least in part canned because he wouldn't give up a first-rounder pick to land another point guard. Firing him still seems like the correct long-term move, but the reasoning in that scenario would be terribly shortsighted, bordering on senseless.
This will factor into how many candidates the Suns ultimately have to replace McDonough. As Woj noted:
The challenge for the Suns remains unchanged: Robert Sarver is perhaps the NBA's most involved owner in basketball decision-making and the plan can change day-to-day. McDonough survived five years with him. Recruiting a new GM is never an easy sell there.
The list of prospective GMs the Suns interview will say a lot about their overall appeal. In the meantime, fans should remain on their toes. Phoenix isn't going anywhere special until it puts the right leadership in place.