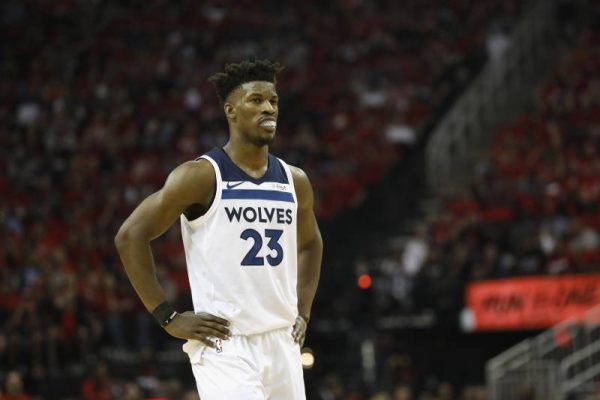 For anyone who predicted the Minnesota Timberwolves would trade Jimmy Butler before the start of the regular season, we have some news: They, um, aren't going to trade him before the start of the regular season.
In advance of the Timberwolves' first game of the year on Wednesday, owner Glen Taylor made a 90-minute trek to meet with his disgruntled superstar, according to The Athletic's Jon Krawczynski and Shams Charania. Though nothing was resolved in the big picture, it sure does sound like Minnesota is ready to hunker down and move forward with Butler on the roster…for now:
All? of the? negative? energy, the salacious headlines and? the? mixed? messages? surrounding? the Timberwolves prompted?? Glen Taylor and his wife, Becky, to hit the road early on Sunday morning for a 90-minute drive to the Twin Cities.

The Wolves owner had read some of the accounts of Jimmy Butler's volatile return to practice last week and also been told by some in the organization that things were being overblown. He got a chance on Sunday to get a look for himself.

Three days before the start of the regular season, Taylor met with his disgruntled All-Star before practice, searching for some sort of understanding to calm the noise that has drowned out any sense of excitement for the upcoming season. In the meeting, Taylor and Butler came to an agreement, sources said: Taylor will continue to work diligently to find a trade as soon as possible. Until that happens, Butler will be a good teammate and play as hard as he always does.
So, basically, Wolves coach-president Tom Thibodeau got his way. He didn't want to trade Butler, and now, at least in the interim, he does not have to.
Which isn't to say this whole firestorm is going away. It won't. Butler still wants out. He has confirmed as much publicly. Now, though, Thibs gets a chance to coach what he believes to be his best product while continuing to try and recruit Butler to stay. This isn't a perfect scenario, nor is Thibs likely to be successful, but it beats accepting pennies on the dollar for one of the 10 or 12 best players in the game.
Of course, the Wolves cannot indulge their hardline stance forever. They will have to move Butler at some point unless they're willing to risk losing him for nothing. They can only hope the offers for his services improve as the season wears on.