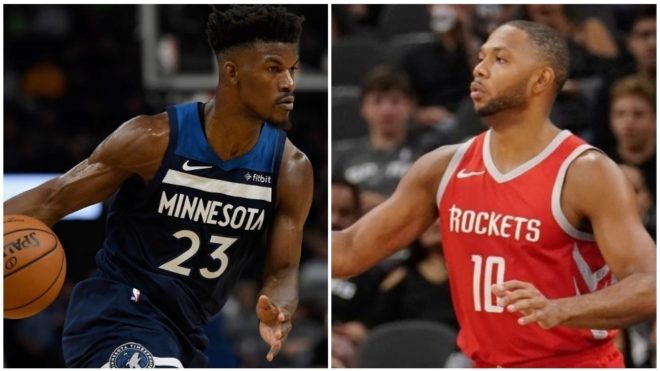 Fresh off of a 66 win season and a collapse away from their first NBA Finals appearance in 23 years, the Rockets have gotten off to a rough 1-4 start in 2018-19.
Harden has been hampered, Paul has been suspended, and the Rockets defense has been atrocious in the aftermath of losing Trevor Ariza and Luc Richard Mbah A Moute and replacing them with Carmelo Anthony this summer.
They know they need to improve now and the window may be closing on their title hopes, hence why they seem to be the biggest player at the moment for Jimmy Butler.
They are reportedly willing to offer as many as four 1st round draft picks for Butler (some of which would potentially convey into 2nd round picks)
The piece that is missing from the equation in trade talks that has kept any deal from becoming serious is scoring two-guard Eric Gordon.
According to Malika Andrews of ESPN:
"Houston has offered four future first-round picks to Minnesota, but that package doesn't include guard Eric Gordon, who'd be mandatory for Minnesota in any proposed deal, league sources said. Thibodeau wants a maximum return on players able to help Minnesota get back to the playoffs.

Taylor has tasked general manager Scott Layden with the focus of finding a trade, as Thibodeau concentrates on coaching the team. Miami and Philadelphia remain teams interested in potential deals for Butler, and Taylor has hoped that those teams would become more aggressive in their offers to pry Butler, league sources said."
Minnesota has botched this whole Butler thing and the potential return for him seemingly gets lower by the day, but they should be able to garner a player of Gordon's caliber in return and the Rockets need to accept that if they are serious about acquiring Butler.