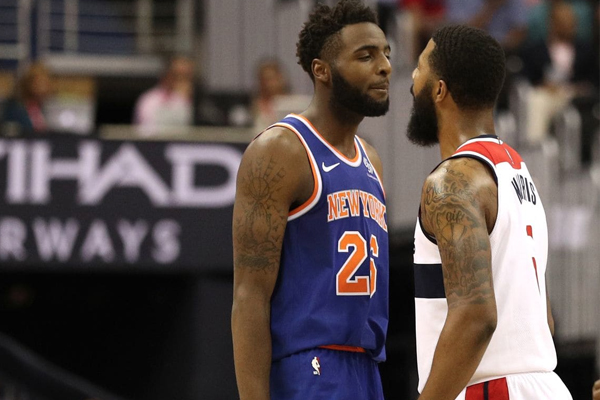 Markieff Morris and his temper made their preseason debut during the Wizards' exhibition opener against the New York Knicks.
Morris got into a verbal dispute with New York Knicks rookie Mitchell Robinsony; both players received a technical foul, but Morris didn't stop there. He continued chirping his opponent which lead to another technical and Morris' ejection.
Morris had some choice words about Robinson after the game:
"He's a stupid-ass rookie," Morris said about Robinson. "Talking too much. Obviously I didn't like what he said, and the refs overplayed it and threw me out.

"I don't even know him. I ain't never really seen him before," Morris added, his mellow voice rising. "He just checked into the game. I never even guarded him. I didn't know there was a Mitchell on their team."

"Me and coach (Scott Brooks) talked about it and I respect that as a coach," he added. "I'm supposed to be the bigger person but what he said crossed the line as a man and I wasn't feeling it. Regardless of the situation, I was wrong for approaching but it happens like that sometimes."
Morris was tied for fifth in the NBA last season in technical fouls and was ejected twice. Only three players – Kevin Durant, Serge Ibaka and Draymond Green – were ejected more often.