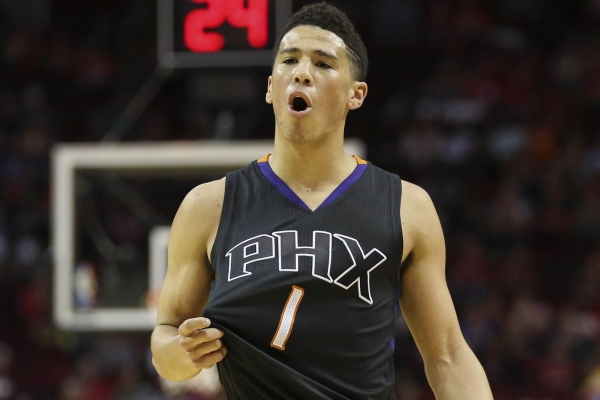 Basketball never sleeps, which unfortunately means injuries don't either.
As first reported by 98.7 FM Arizona's John Gambadoro, Devin Booker needs to have surgery to repair an injured right hand and will be out indefinitely (via 98.7 FM Arizona's Kellan Olson):
Phoenix Suns shooting guard Devin Booker will undergo hand surgery on Monday and is out indefinitely, reports 98.7 FM Arizona's Sports Station's John Gambadoro.

Booker will have the surgery in Los Angeles and is likely to miss the start of training camp.

Gambadoro reports Booker will miss at least four weeks.
ESPN.com's Adrian Wojnarowski added a couple of additional tidbits:
Booker's availability for the start of regular season will be clearer after procedure on Monday, league source tells ESPN. Booker signed a five-year, $158M extension this summer. https://t.co/4e0SA2SXE3

— Adrian Wojnarowski (@wojespn) September 10, 2018
Surgery became necessary when Booker's right hand "swelled up recently," league source tells ESPN.

— Adrian Wojnarowski (@wojespn) September 10, 2018
Losing Booker for any period at all after investing a max extension in him is unsettling. But that's far from the primary concern here. He's just 21 years old—he turns 22 in October—and it doesn't appear that this is a serious issue. The injury itself wasn't even supposed to require surgery. This curveball is more of an unfortunate setback than absolutely damning—assuming, of course, no sinister have been left out.
But the Suns do have designs on winning now. All of their offseason moves point to a team investing heavily in its present and future. They traded to get a more NBA-ready prospect in Mikal Bridges, they gave Trevor Ariza a bloated one-year salary, and then they acquired Ryan Anderson with the intention of starting at power forward. They're done tanking, or so they hope.
If Booker isn't ready to rock by the start of the regular season, it harshes the Suns' immediate vibes. They're light on playmakers as it is. Booker figured to be something of a hybrid guard—both the primary scorer and, maybe, facilitator. Though Phoenix has players it can look at, including De'Anthony Melton, Elie Okobo and Shaquille Harrison, Booker is the only one who bears resemblance to a proven setup man. His absence beyond training camp would be difficult to overcome.