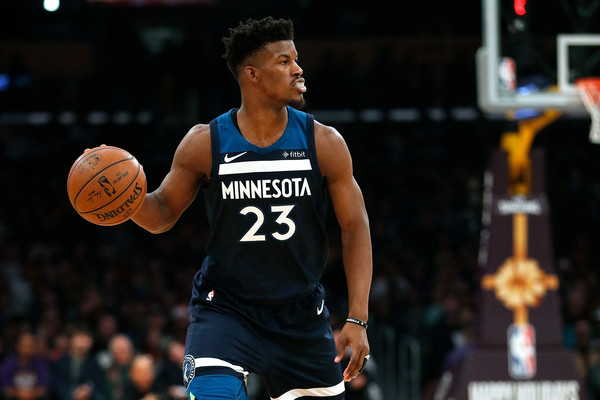 As many have suspected and hinted at, Jimmy Butler's trade demand should not have come as a surprise to the Minnesota Timberwolves just because it officially came so close to the start of training camp. Indeed, it seems coach-president Tom Thibodeau has known about his All-Star's unhappiness since the end of the postseason—and most definitely since July.
From The Athletic's Jon Krawczynski and Shams Charania:
While Thibodeau said on Monday that last week was the first time Butler made a trade request, the warning signs of discontent were there much earlier. After the Rockets eliminated the Timberwolves in the first round of the playoffs in May, Butler did not fly with the team back to Minnesota, sources said. He took a flight to Los Angeles shortly after the game was over and refused to do the standard medical exam all players go through as part of their exit interviews.

A few days later, he started conveying his concern for the franchise and casting doubts on his willingness to stay long-term. Butler can become a free agent after this season, and his representatives talked with Thibodeau in July about his unwillingness to re-sign in Minnesota, sources said. Butler conveyed the same message directly to Thibodeau in August when the coach came to California to visit him after he had hand surgery, sources said.
Thibs and the Timberwolves can be excused for not reading too deeply into Butler abandoning the team after their postseason elimination. Letting this situation ride out until the middle of September after apparently receiving ironclad indications that he wants out in July is inexcusable, though.
Sure, the Timberwolves are under no obligation to trade Butler. Thibs was hired in Minnesota under the guise that he needed to win. Butler helps him do that. But by ignoring the initial request, he and general manager Scott Layden have created this 11th-hour stand-off with owner Glen Taylor and prospective suitors that leaves the Timberwolves with very little, if any, leverage in negotiations.
Much can be forgiven if Minnesota gets a nice haul for Butler. But disgruntled stars on the verge free agenc of don't fetch much this side of the Carmelo Anthony trade. In all likelihood, the Timberwolves will be forced to settle, perhaps more so than they would have needed if they started shopping Butler at the first sign of trouble.