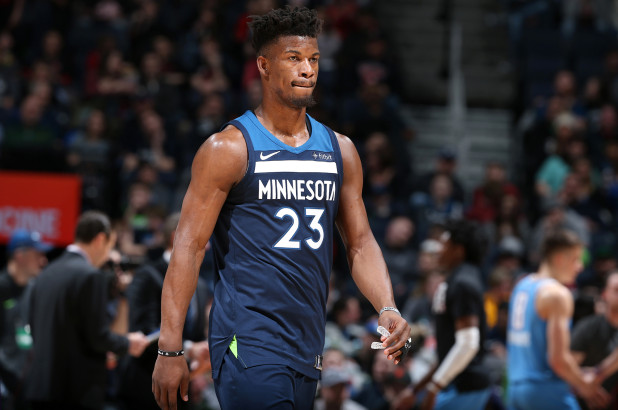 The wheels are falling off for the very short lived resurgence of the Minnesota Timberwolves as a newsworthy and successful organization for the first time since Kevin Garnett was traded in 2007.
After a 47-35 record, the No.8 seed and their first playoff berth in 14 years the future of the T'Wolves organization is once again in peril.
Their 29-year-old All-Star wing player is reportedly unhappy in Minnesota and with the effort of 2015 No.1 pick Karl Anthony Towns met with Head Coach Tom Thibodeau and the Wolves organization on Tuesday.
The outcome was reportedly a trade with the Los Angeles Clippers as the desired outcome.
Minnesota's Jimmy Butler is most determined to find a way to the Los Angeles Clippers, league sources tell ESPN. The appeal of partnering with a second star – the Clippers have two max contract slots available in summer free agency – is an intriguing scenario for him.

— Adrian Wojnarowski (@wojespn) September 20, 2018
Could a super duo of Butler and Kyrie Irving or Kawhi Leonard be the future of the Clippers franchise come 2019? While unlikely, it appears the Clippers are major players in the trade market and free agency in 2019.
Butler in New York with the Knicks makes a lot of sense as well, but Knicks management has re-iterated this off-season that they will not give up major assets to acquire a player that they could ultimately sign for zero compensation in free agency.
It is impossible to know how many organizations truly operate on a daily basis, but the Wolves need to get their stuff together if they want to keep or get fair value for Butler on the roster or in a trade.