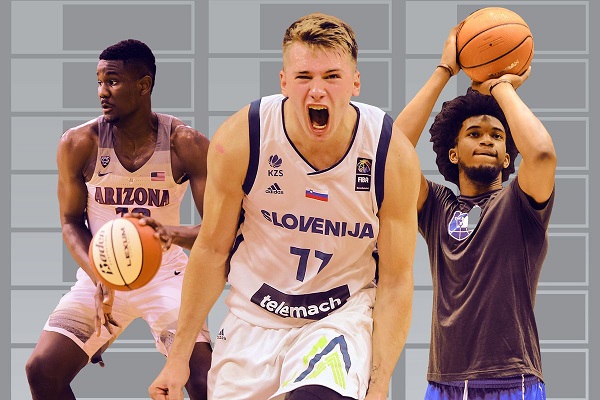 We are about a month out from the 2018 NBA Draft class making their NBA debuts after being highly touted prep, collegiate and international players. Soon we will start to see who some of the stars of tomorrow may be.
Who from this class will have the best rookie season and who will have the best career in the NBA? I figured I would try to get seer-ious (see what I did there?) and peer into my crystal ball to see what the future holds for the 2018 NBA Draft lottery picks…
No. 14 Michael Porter Jr.- Denver Nuggets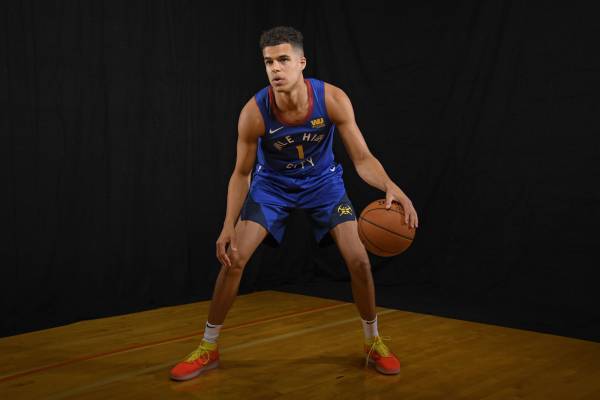 Rookie Season:N/A
Career: PPG: 17.4 REB: 5.7 AST: 2.0 FG%: 46% 3P%: 35% FT: 75%
Career Accomplishments: 1x All-Star
There is no denying Porter Jr. has the talent and skill set of a player his size to be a star in the NBA. If I am being honest though I see him more as a Rudy Gay type player than I do a Kevin Durant. He can score in bunches but has shown little ability (in limited time playing on a higher level in fairness) to get his teammates involved or be a high I.Q. player with his shot selection.I foresee him being a popular 2K player that fans like and has some success, but ultimately ends up being a slightly overpaid and slightly inefficient secondary scoring option for a team. Still really good value for the No. 14 pick in my opinion and more than worth a shot by the Nuggets. Here is to hoping his back issues aren't chronic.
No. 13 Jerome Robinson- Los Angeles Clippers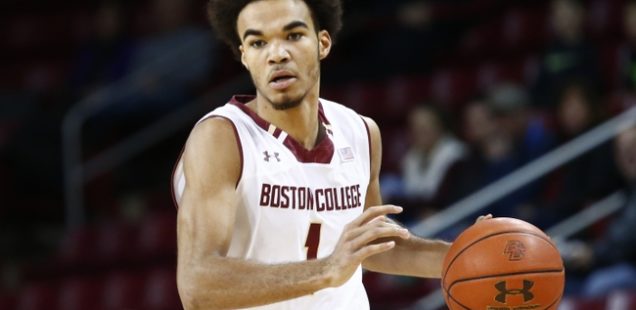 Rookie Season: PPG: 7.7 REB: 3.1 AST: 2.2 FG%: 44% 3P%: 33% FT%: 78%
Career: PPG: 11.1 REB: 3.9 AST: 3.0 FG%: 46% 3P%: 36% FT: 80%
Robinson may struggle to get many opportunities, at least in the first half of the season, for a Clippers team that currently features eight other guards on their roster. Robinson will have to compete with Avery Bradley, Lou Williams, Patrick Beverley, Tyrone Wallace, Milos Tedosic and fellow rookie Shai Gilgeuous Alexander for minutes. He was a very good scorer in college and I see him developing into being a bench scorer that pops around the league for eight to 10 years.
No. 12 Miles Bridges- Charlotte Hornets
Rookie Season: PPG: 12.2 REB: 5.7 AST: 1.4 FG%: 46% 3P%: 33 FT: 73%
Career: PPG: 11.3 REB: 5.0 AST: 1.5 FG%: 43% 3P%: 34% FT%: 74
Bridges is an explosive and powerful athlete with an NBA ready body and the strength to finish at the rim from day one in the NBA. My issue with him is that he is a tweener at 6'6″ 230 that doesn't really feel like a three or a four in the NBA the way the league is heading. I think he gets some opportunity in Charlotte and has a good rookie year, but ultimately can't establish a consistent role or position in the league and gets phased out within five years.
No. 11 Shai Gilgeous-Alexander- Los Angeles Clippers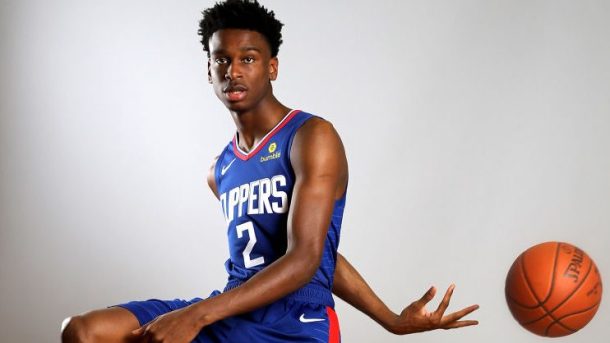 Rookie Season: PPG: 9.1 REB: 5.0 AST: 4.6 FG%: 45% 3P%: 29% FT%: 74%
Career: PPG: 11.3 REB: 5.3 AST: 4.8 FG%: 46% 3P%: 32% FT: 77%
Gilgeous Alexander came on the scene as the surprise breakout player for the Kentucky Wildcats last season. He's a guy who has a great combination of size, ball handling and quickness and is able to get in the lane with ease. He has a higher ceiling than fellow Clippers rookie Jerome Robinson, but I don't necessarily see him as being a starting guard in the NBA either. I think best case is a quicker version of post-injury Shaun Livingston and worst case is Michael Carter-Williams.
No. 10: Mikal Bridges- Phoenix Suns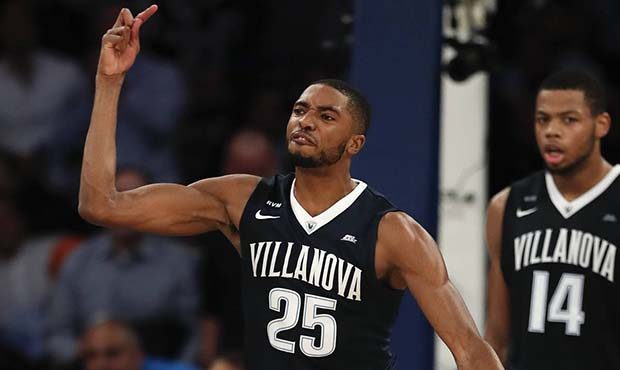 Rookie Season: PPG: 9.3 REB: 4.5 AST: 2.2 FG%: 47% 3P% 37% FT%: 75%
Career: PPG: 16.7 REB: 6.3 AST: 3.5 FG% 48% 3P%: 40% FT%: 77%
Career Acomplishments: 2x All-Star, 4x All-Defensive
As you can see this is my biggest growth curve from rookie season to career numbers thus far. Bridges will get some opportunity for a young Suns team as a rookie, and will be ready to contribute with his abundance of college experience winning two national titles at Villanova and have a ready-made 3-and-D NBA skill set. He is currently in a logjam at the forward position with the Suns though competing for time with Josh Jackson, Trevor Ariza and T.J. Warren. Speaking of Ariza, I think he is the perfect mentor for Bridges and a good example of the player Bridges might become. I think he ultimately develops into a better version of Ariza though, think Scottie Pippen-lite.
9. Kevin Knox- New York Knicks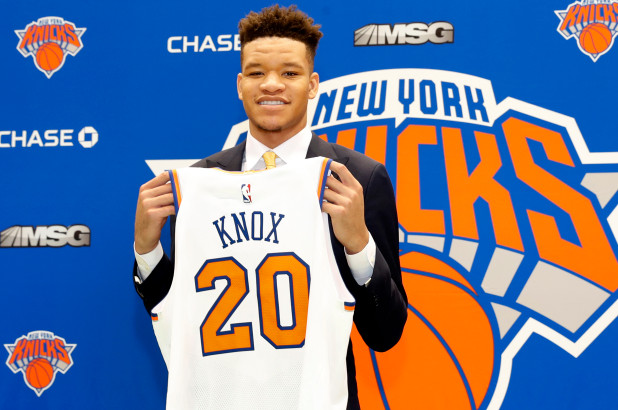 Rookie Season: PPG: 14.4 REB: 5.6 AST: 2.5 FG%: 42% 3P%: 33% FT: 70%
Career: PPG: 17.3 REB: 5.2 AST: 2.6 FG% 45% 3P%: 34 FT%: 73%
I think Kevin Knox will have an exciting rookie season for a Knicks team that badly needs someone to step up with Kristaps Porzingis out. I think he will develop into a good starter and a second or third scoring option for the Knicks. He has leaned out a bit since being drafted and looks like he will be an aggressive and gifted scorer. A solid asset and foundational piece for the Knicks going forward.
No.8 Collin Sexton- Cleveland Cavaliers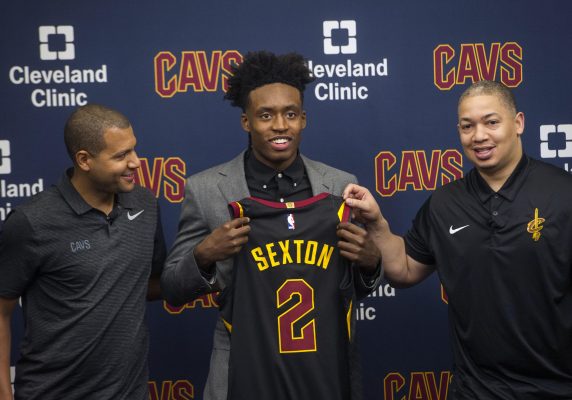 Rookie Season: PPG: 12.1 AST: 4.2 REB: 4.6 FG%: 42% 3P%: 29% FT%: 70%
Career: PPG: 14.7 AST: 5.8 REB: 5.1 FG%: 46% 3P%: 33% FT%: 76%
Unfortunately Sexton's awkward and coaxed plea for LeBron James to return to Cleveland on draft night did not work and he walks into a veteran Cavs team in transition. He will get a ton of opportunity from the get go for a Cavs team that sorely lacked his sort of quickness, athleticism and play-making ability at the point guard position last season. I really see Sexton as Eric Bledsoe 2.0, a guard who is starting caliber point guard in the league but a middle of the road one who is never quite all-star caliber, even in his best seasons.
No.7: Wendell Carter Jr.- Chicago Bulls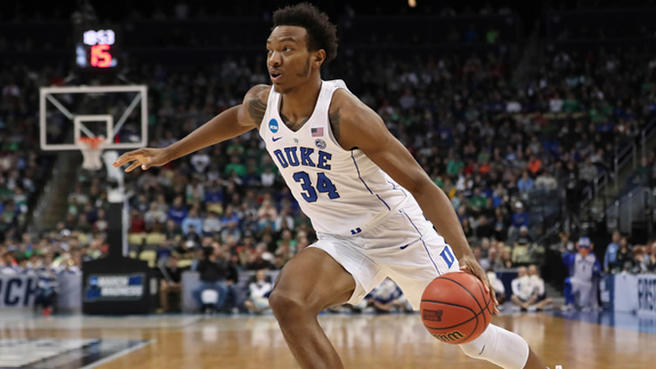 Rookie Season: PPG: 12.3 REB: 7.2 AST: 2.7 FG%: 50% 3P%: 35% FT%: 76%
Career: PPG: 14.7 REB: 8.2 AST: 3.0 FG%: 50% 3P%: 37% FT: 78%
Career Accomplishments: 1x All-Star
I think Carter Jr. is a very solid and NBA ready player from day one and will be a valued player in the NBA for 10 to 15 years. He doesn't excel at anything but he is good at many things and is a high I.Q. player. He feels a lot like Al Horford to me and could end up being one of the more valuable and dependable players in this class.
No.6- Mohamed Bamba- Orlando Magic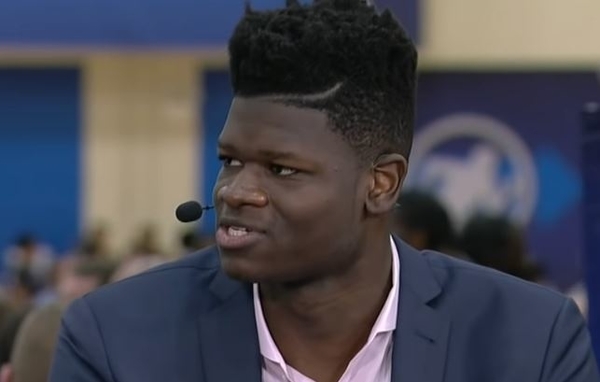 Rookie Season: PPG: 8.2 REB: 8.8 BLK: 2.8 FG%: 55% 3P%: 31% FT%: 70%
Career: PPG: 13.0 REB: 10.9 BLK: 3.3 FG%: 53% 3P%: 35% FT%: 77%
Career Accomplishments: 4X All-NBA, 4X All-Star, 7X All-Defensive, 2x Defensive Player of the Year
Bamba has the potential to be the first player of his kind: A fleet of foot, over seven-foot elite rim protector and rebouder that can stretch the floor with the three-ball. He needs to get stronger and more patient to keep himself out of foul trouble (it was a big issue in his one season at Texas). When you have the fastest cone agility drill time in the draft and the longest wingspan and standing reach ever recorded at the combine with a decent looking jump shot… you know you have a special talent on your hands. I think he will be Rudy Gobert with range and be the league's most fearsome interior defender for half of a decade. He is a weird fit currently with all of the big men in Orlando, but he is worth the pick as he could be one of the league's 15 most valuable players in the next five years or so.
No. 5 Trae Young- Atlanta Hawks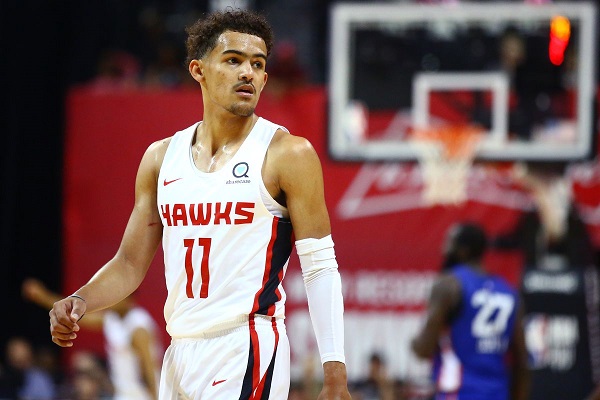 Rookie Season: PPG: 17.5 AST: 6.2 REB: 2.7 FG%: 39% 3P%: 32% FT%: 85%
Career: PPG: 14.3 AST: 5.1 REB: 2.3 FG%: 41% 3P%: 34% FT%: 87%
Trey Young will have the ball in his hands a lot and every opportunity to learn on the job in his rookie season as the go-to player on day one for a Hawks team that may be the worst in the league by a lot. Young does have a special ability to shoot the ball from anywhere on the floor and get off his shot quickly, which evokes the Steph Curry comparisons. He has a far better vision as a passer than Curry at the same age, but he will not be another Steph Curry. Young doesn't possess the quickness, strength or separation ability in my opinion to get off quality shots on a consistent level on an NBA level with NBA caliber point guards guarding him nightly. I think he will provide some highlights and fun score lines his rookie season in Atlanta and be a fan favorite, but ultimately wont stick in the league and will be lighting up the Chinese basketball association by his late 20s.
No.4 Jaren Jackson Jr.- Memphis Grizzlies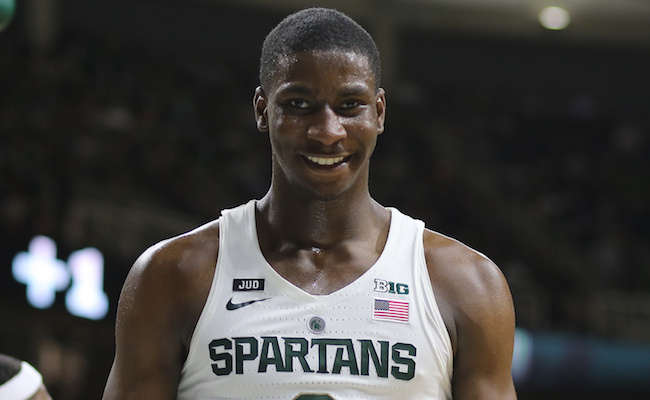 Rookie Season: PPG: 8.8 REB: 6.6 BLK: 2.6 FG%: 47% 3P%: 35% FT%: 69%
Career: PPG: 12.7 REB: 8.5 BLK: 2.8 FG%: 50 3P%: 38% FT: 74%
Career Accomplishments: 2x All Defensive
People were drooling about Jaren Jackson Jr. during his freshman season at Michigan State and the pre-draft process as a raw center of the future with his elite shot blocking abilities and the potential to be a 40% three point shooter on the NBA level. Jackson definitely popped at times in Summer League, but he is still raw and has never been the leading scorer of his team in high school or college. He has never averaged more than 16.1 points per game on any level, including high school. Some scouts view him as a future all-star, but I view him as a very raw and gifted guy who can be an elite shot blocker and good NBA starter that can space the floor a bit. Not a budding star. He has the luxury of learning behind one of the highest I.Q. centers in NBA history in Marc Gasol who can teach him the finer points of the NBA game and help him maximize his vast potential.
No.3 Luka Doncic- Dallas Mavericks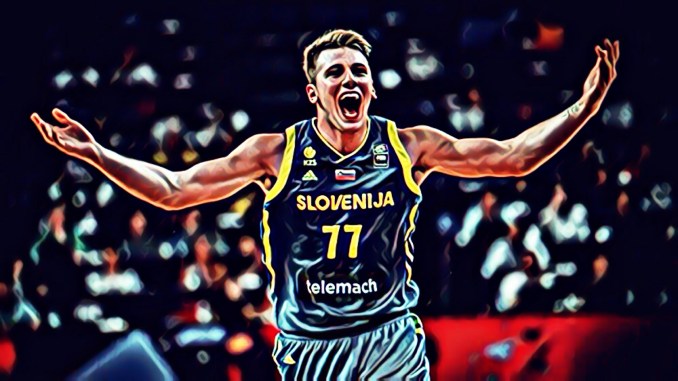 Rookie Season: PPG: 14.8 AST: 5.2 REB: 5.1 FG%: 45% 3P%: 34% FT%: 78%
Career: PPG: 19.2 AST: 6.3 REB: 6.0 FG%: 49% 3P%: 37% FT%: 82%
Career Accomplishments: 8x All-Star, 4x All-NBA
The hype train has been humming for the biggest European prodigy to ever enter the NBA. A 19-year-old, 6'8″ do-it-all point forward who has the potential to be a truly special player and star in this league. I know people don't usually do cross race comparisons, but Doncic feels like a cross between Paul George (post leg injury athleticism) and a young Manu Ginobili. Not quite an MVP caliber player, but a guy who will help you win a lot of games.
No.2 Marvin Bagley III- Sacramento Kings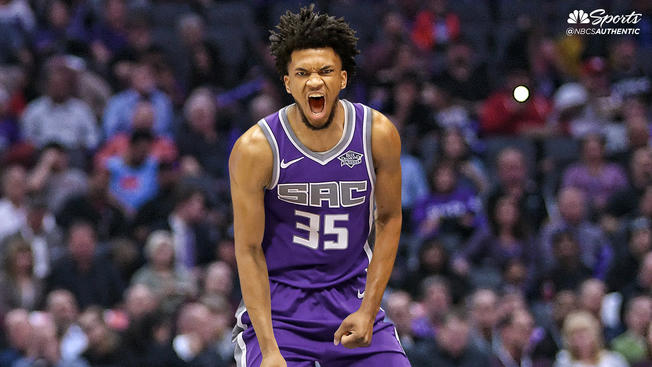 Rookie Season: PPG: 16.1 REB: 8.1 AST: 1.4 FG%: 43% 3P%: 30% FT%: 67%
Career: PPG: 17.9 REB: 8.8 AST: 1.5 FG%: 46% 3P%: 34% FT%: 72%
Career Accomplishments: 3x All-Star
Marvin Bagley is a very springy and gifted power forward that will be able to fill up a stat sheet for many years in the NBA. He can handle the ball a little bit for a player of his size, has some touch around the rim and has the special second jump ability that few players have (think Shawn Marion) that will make him a beast on the offensive glass. He will develop into an All-Star caliber player for the Kings, but his defensive limitations and his lack of elite length or ability to shoot from deep will prevent him from ever quite reaching elite level in his NBA career.
No. 1 DeAndre Ayton- Phoenix Suns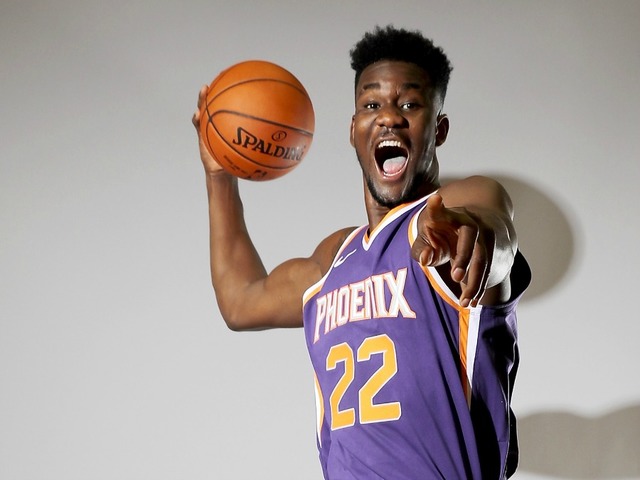 Rookie Season: PPG: 17.3 REB: 10.2 AST: 2.4 FG%: 53% 3P%: 33% FT%: 79%
Career: PPG: 21.2 REB: 11.3 AST: 3.0 FG%: 54% 3P%: 36% FT%: 81%
Career Accomplishments: 10X NBA All-Star, 8X All-NBA, 1X NBA MVP
Some people think Luka Doncic or Marvin Bagley may be the gem of this draft class, but I think the Phoenix Suns got it right at No.1. While the league has been transitioning away from the traditional center for years now, when a special one with Ayton's size, body, court awareness, athleticism, touch, aggressiveness and skill set comes along, they still dominate in whatever era the NBA is in. A lot of people compare Ayton to recent No. 1 draft pick Karl Anthony Towns, and while they do have a lot of similarities, Towns doesn't have a body carved out of stone like Ayton and doesn't possess his natural athleticism. Ayton feels like a cross between many centers, but I foresee him being this era's version of David Robinson and a hall of fame caliber player.