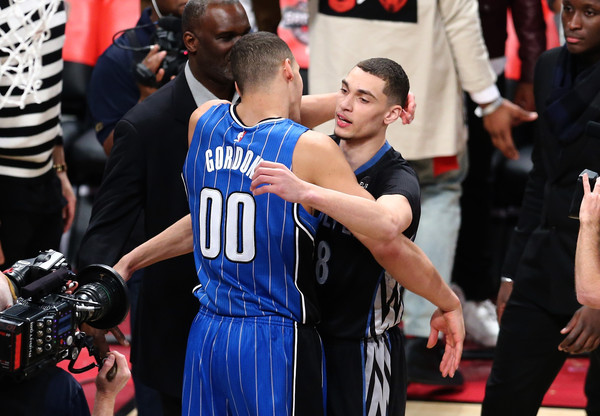 NBA free agency is a mere three weeks away and while the sports world focuses on where LeBron James will be suiting up next season, there are a number of talented young restricted free agents that are set to hit the market.
Two of those players are Aaron Gordon of the Orlando Magic and Zach LaVine of the Chicago Bulls.
Gordon is coming off the best season of his young career and LaVine is coming off a mostly lost season recovering and getting his explosiveness back after a torn ACL injury in early 2017.
Some have hinted that the Magic and Bulls may have to pay max money (for a player of their NBA experience) in order to retain them and according to Shams Charania of Yahoo Sports, they may be willing to pay that:
"I think both teams are aware that they need to go to max number for them. But the question will be are they going to make them go get a sheet? Are they going to match? They're going to match. I think the sentiment I've gotten from both teams is "Listen, if Zach LaVine goes and gets a max, we have too much invested in him." "If Aaron Gordon…" That's kind of the template. That's the range."
I have a really hard time believing with the current cap climate in the NBA that any team would be willing to pay LaVine upwards of $18 million per season, considering he has shown few NBA abilities other than being a great dunker and solid three-point shooter. He is a very poor defender at this point and not the most efficient scorer either, and will he ever get all of this freak athleticism back after the ACL injury?
Gordon on the other hand, feels like a player who could and is borderline worthy of that kind of deal as an ideal athletic power forward in today's NBA who can provide some scoring, rebounding, quickness and an ability to defend multiple positions. If he can consistently be a better than 35% three point shooter he is a very dangerous player.
Regardless of how it may look considering LaVine was the centerpiece of the Butler trade, if LaVine does get a near max contract offer the Bulls should let him walk, no need to try and save face by awarding a bad contract for a player that doesn't deserve it (see: Brandon Knight and the Suns).
I have a feeling both Gordon and LaVine will be back with their respective teams next season, restricted free agents rarely change teams.