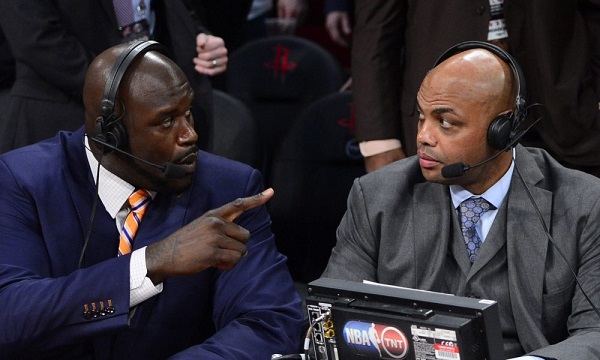 Charles Barkley and Shaquille O'Neal have always had a contentiously friendly relationship as NBA players and now as co-analysts on Inside the NBA on TNT.
They have had numerous battles on the court and in the studio and haven't shied away from getting physical or personal at times.
Here is the infamous clip of Chuck tackling Shaq once again for your viewing pleasure…
NBA classic gold there. They sparred with verbal jabs on Tuesday night over a heated disagreement about whether Dwayne Casey was right to bench his star player DeMar DeRozan in Game 3 of the Raptors eastern conference semifinals series with the Cavaliers, in which the top-seeded Raptors were swept by the Cavaliers for the 2nd consecutive season.
Barkley thought that it was a poor decision because a coach has to have a good relationship with his premier player and Shaq thought Barkley's argument was nonsense and agreed with the benching.
That led to a heated argument and a lot of "oh they went there" type shots from Shaq and Barkley (Shaq always takes it to that level first) enjoy…
Charles Barkley and Shaq got into a heated argument last night! pic.twitter.com/73RIQecIox

— Athlete Swag (@AthleteSwag) May 9, 2018
The juiciest parts of the argument were easily Shaq telling Chuck he doesn't know what he is talking about and that he doesn't know anything about championships, to which Barkley responded "I didn't have Kobe and D-Wade carrying me up and down the court" and an angry Shaq repeating that he won three NBA Finals MVPs and admonishing Barkley to google him.
I know these sort of dramatic arguments are often staged in today's sports news cycle (cough everything Stephen A. Smith, Skip Bayless and Shannon Sharpe does cough), but this felt very real and raw.
It should be an interesting next few weeks on the Inside the NBA set.