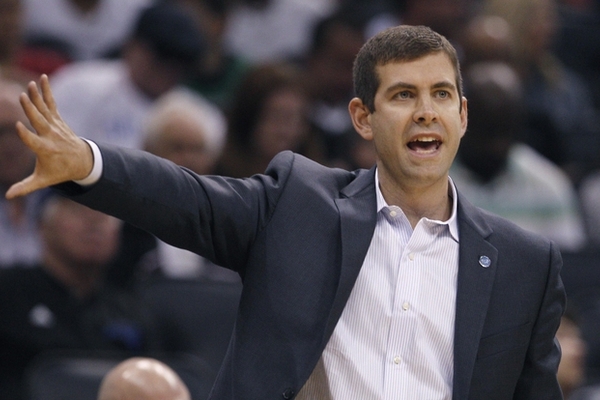 Brad Stevens may still win the NBA's officially recognized Coach of the Year award, but he's already lost the battle among his sideline peers.
Similar to how the NBA's player association has its own end-of-season award ballot, the coaches association does the same thing with their members. This year, Toronto Raptors head honcho Dwane Casey earned the honor from his colleagues. Equally noteworthy, though, is the fact that Stevens didn't receive any love from his fellow clipboard-wielders.
From The New York Times' Marc Stein:
In a vote of his peers, Dwane Casey of the Toronto Raptors has been selected as the National Basketball Coaches Association's coach of the year for the 2017-18 season — while Brad Stevens of the Boston Celtics stunningly failed to win a single vote from fellow coaches.

The N.B.C.A. introduced its own Coach of the Year Award last season, based on polling of the league's 30 head coaches after the regular season, and Casey was announced Wednesday as the winner just two days after the Raptors were swept out of the playoffs by the Cleveland Cavaliers. The award is separate from the N.B.A.'s Coach of the Year Award, which is voted on by members of the news media.
Some additional context: The NBA's coaches were only allowed to select one team, so there isn't some first-place, second-place, third-place hierarchy. Had they been able to include a handful of names, Stevens surely would have popped up on a bunch of second- and third-place ballots.
At the same time: Really? Zero first-place high-fives for the dude who coached the Boston Celtics through immense roster turnover, Gordon Hayward's season-ending injury and even Kyrie Irving's own injury at the tail end of their schedule? This is a regular-season honor, but Stevens' absence from consideration looks egregious even when removing the Celtics' Eastern Conference Finals cameo from the equation.
Ah, well. At least he still has a chance to win the NBA's official year-end award. Even with Casey and Utah Jazz head coach Quin Snyder commanding a ton of attention, Stevens is bound to garner more love from the media.