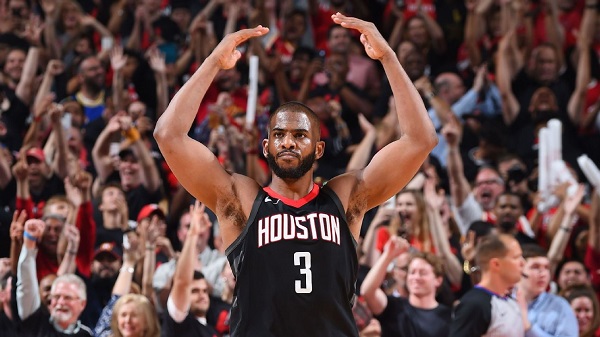 In his 13 NBA seasons Chris Paul has amassed a hall of fame resume, essentially averaging 19 and 10 while making eight All-NBA appearances.
He has been the best pure point guard of the 2000s and haS had a level of consistency rarely seen in the NBA.
One thing he could never say he had ever done until Tuesday night though was make the conference finals, he finally reached that plateau and did so in historic fashion in Game 5 of the Rockets western conference semifinal series with the Jazz.
Paul had a new playoff career high of 41 points and 10 assists in the win and became the 1st player in playoff history to ever have a 40 point, 10 assist game with zero turnovers.
[Tweet https://twitter.com/ESPNStatsInfo/status/994195027042754560?ref_src=twsrc%5Etfw]
This is a great moment for Paul at the age of 33 and seemingly entering into the tail end of his prime as he would have likely been the greatest player in NBA history to never play in a conference finals.
Paul shot 13-for-22 from the field and 8-for-10 from three-point range in the Rockets 112-102 victory and added seven rebounds.
He is playing his best basketball of the season at the right time and will face the biggest challenge in his career in the conference as the defending NBA champions and 3x western conference champion Golden State Warriors await, not to mention two-time MVP point guard Steph Curry.
Paul has been waiting for his moment to try and reach the NBA Finals for 13 years, I think he will be ready.