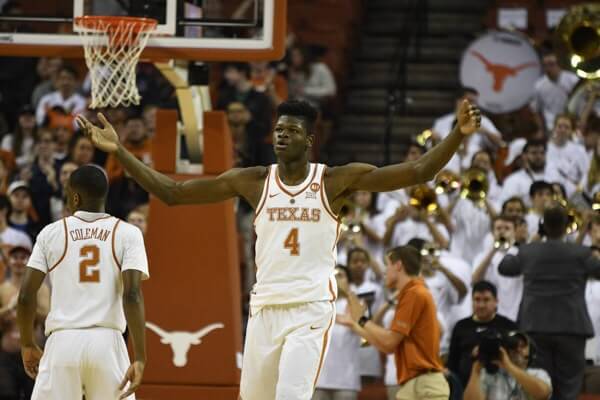 So much for the Boston Celtics letting their roster ride into next season.
Standing pat appears to make sense for the Celtics. Their roster is overloaded with talent, they came within one victory of an NBA Finals appearance and, above all else, they've yet to even see the best version of themselves.
Gordon Hayward missed pretty much the whole season after injuring his leg on opening night, and Kyrie Irving missed the end of the regular season and their entire playoff campaign after knee surgery. Both players could be viewed as this offseason's biggest prizes, in way.
But the Celtics are the Celtics, and team president Danny Ainge is Danny Ainge. They won't stop searching for a way to take the roster to the next level. Could their latest finishing touch be top-five NBA draft prospect Mo Bamba? Maybe.
From Sporting News' Sean Deveney:
The Celtics were eliminated from the postseason just days ago, but they've established themselves as an up-and-coming group that figures to contend for a championship next season. The one hole in what is a mostly loaded roster, though, is in the middle.

And while there have been ample rumors in the past year about Boston chasing the likes of Anthony Davis and Karl-Anthony Towns, the answer could be slightly different: Texas center Mo Bamba, who is expected to be one of the top picks in this year's draft.

Sources told Sporting News that Boston has expressed interest in Bamba, including interviewing him at the Chicago pre-draft combine two weeks ago. Bamba measured in with a record wingspan of 7-10 in Chicago, reinforcing his status as the most ready-made rim protector in the draft.
Most mock drafts have Bamba going no lower than fifth. Some have him coming off the board in the top three. Though the Celtics have the assets to make an offer that lands them so high, finding a trade partner would be difficult. Dangling their own pick this year, plus any combination of next season's Memphis Grizzlies, Los Angeles Clippers and Sacramento Kings selection gives them a good starting point. But they don't really have any dispensable pieces that would make the deal worthwhile this year, and there isn't a team in the top five that could spin punting on this draft altogether.
Nevertheless, watch the Celtics. They could be up to something. Or nothing. We don't know. We never truly do.