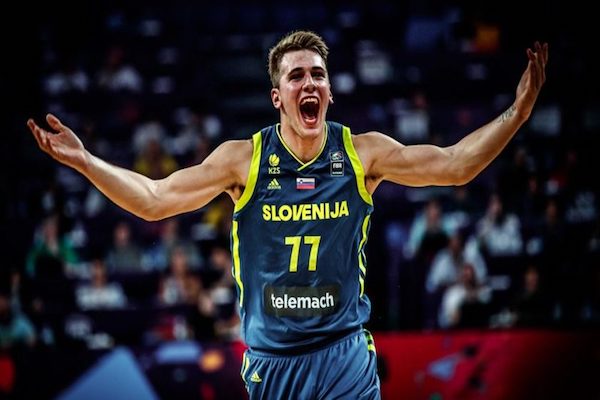 If NBA teams are hoping to get a last look at Luka Doncic before this June's draft, they'll need to pore over a bunch of film.
Because he's not holding an official audition for them.
From Sporting News' Sean Deveney:
That's an issue for any team hoping to draft Doncic, though. His commitment to Real Madrid will keep him busy through the NBA Draft. He won't be able to work out on an individual basis, even for a team that has the top overall pick.

"I don't think that will be an issue," Bill Duffy, Doncic's agent, told Sporting News on Tuesday. "Playing in the Euroleague speaks for itself. What he has been able to do, it speaks to both the talent and preparedness for Luka. He has had a different level of experience than most of his peers. Euroleague is the next step to playing in the NBA."

Duffy said that Doncic won't work out for teams ahead of this June's draft because of his commitments to Real Madrid. The team is part of the Euroleague Final Four, which will take place on May 18 and 20, and will start with Doncic's Spanish team taking on Russian powerhouse CSKA. Expect a crowd of NBA talent evaluators to descend on Belgrade that weekend. If you want to know more about Doncic, watch those games.
It's not uncommon to see draft prospects forego the ritualistic workouts. Usually, though, the players skipping on them are consensus picks. Doncic is in play for a top-three selection, but his position on the prospect ladder remains somewhat uncertain.
Some of this can be chalked up to the typical overseas-prospect stigma. Doncic is dominating, as a teenager, in the second best league in the world, but teams don't want to be the ones who draft an overseas bust. Those mistakes tend to live on infamy.
Still, based off Doncic's body of work, along with his commitment to Real Madrid, he doesn't need to squeeze in last-minute workouts. If he's trying to convince a certain team to draft him, it'd be different. But if he's not concerned where he ends up, then this approach, taken by many more before him, certainly doesn't hurt him.