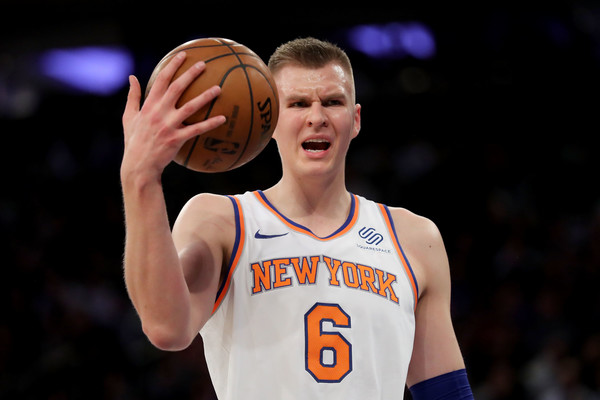 Kristaps Porzingis has given his stamp of approval to the New York Knicks for hiring David Fizdale.
Granted, it took him a few weeks to offer his final verdict. And yes, there's also an element of "How could he not be excited?" at play here. The bar for promising situations and player-coach relationships isn't set very high in New York. Fizdale is an upgrade over anyone Porzingis has worked with almost by default.
Still, the soon-to-be 23-year-old's opinion matters. He is the franchise's future, despite the fact he could miss all of next year recovering from his ACL injury. The Knicks need him to be on board, or at least amenable to, all of their huge decisions.
And after speaking with Fizdale, Porzingis doesn't sound like he'll have a problem supporting the third head coach of his career:
Just had a great conversation on the phone with Coach Fiz. Man im excited!!!!! Lets gooo!!! ??

— Kristaps Porzingis (@kporzee) May 24, 2018
Crisis averted. (But not really.)
There was never any real reason to think Fizdale wouldn't connect with Porzingis in some way. He had his issues with Marc Gasol while coaching the Memphis Grizzlies, but not all European big men are the same. Plus, Fizdale was adamant at his introductory press conference that he's learned from the experience and is thus better for it.
Blank-slate relationships don't typically get off to a bad start, either. There's always a honeymoon phase. The Knicks and Fizdale are in theirs.
Nevertheless, it says a lot that Fizdale is making good on his promise to reach out to the players, specifically Porzingis, and establish ties with them. It doesn't seem like any of the unicorn's past coaches–with the exception of former Knicks assistant Joshua Longstaff—have ever done the same. And that, by extension, makes this conversation, along with KP's reaction, a big deal.