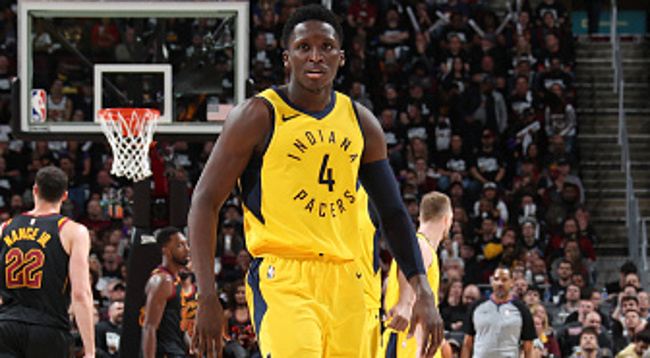 The Indiana Pacers had their coming out party on the national stage on Sunday.
They dominated the Cavaliers in Game 1 of their 1st round series, controlling the game from horn to horn and winning 98-80 behind an elite performance by their star Victor Oladipo.
Oladipo had 32 points on 11-for-19 shooting to go with six rebounds, four assists and four steals as he lit up the Cavaliers from all areas of the floor.
He has a little extra motivation to stick to the Cavs because of what Dan Gilbert said last summer in the aftermath of the trade that sent Paul George to Oklahoma City and Oladipo and Domantas Sabonis to Indiana.
Gilber said publicly that the Pacers "could have done better than they did" with the trade with the Thunder, which essentially was him airing out his frustrations with the Cavaliers not acquiring George, but slighting Oladipo and Sabonis in the process.
Here is what Oladipo told Dave McMenamin of ESPN after the Game 1 victory:
"You could say it added fuel to the fire, I guess you could say," Oladipo said after Game 1. "But that was so long ago. It came up recently, obviously, because we were playing the Cavs in the series, but I'm aware of what he said. Can't control his opinion. All I'm focused on is myself and becoming the best Victor Oladipo possible."
Although Gilbert likely didn't even really consider Oladipo when making the comment, professional athletes often use anything that can be percieved as a slight as extra motivation to be able to improve and compete on the highest level and whatever Oladipo is doing to motivate himself these days is obviously working as he may be an All-NBA player this season and likely will win the NBA Most Improved Player Award.
The Cavaliers look like they will be in for a dogfight with the Oladipo-led Pacers to escape Round 1.