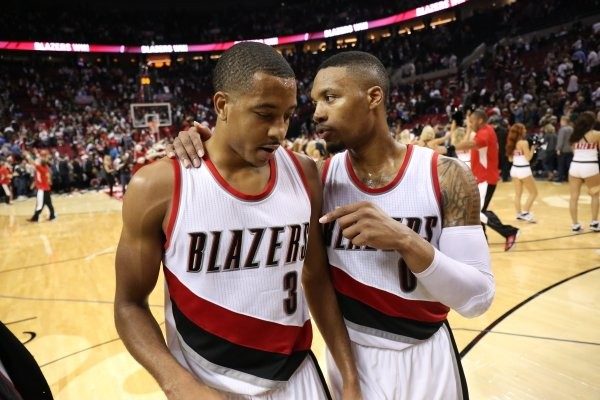 CJ McCollum and Damian Lillard wasted little time breaking down the Portland Trail Blazers' Game 1 loss to the New Orleans Pelicans on Saturday. And now, as a result, they're feeling pretty good about Game 2.
From NBC Sports Northwest's Jason Quick:
The text messages zipped back and forth. They talked strategy. They talked about mindset. And they talked about communication.

"It was a little bit of everything,'' McCollum said.

The two stars have grown to become close friends, a relationship that started when McCollum was a senior at Lehigh and Lillard a rookie with the Blazers. Their bond has grown to where they train, travel and talk frank with each other.

"It's a level of accountability,'' Lillard said. "I can say to him, 'Man, you have to be more aggressive in the first half …' That's what it is like between us.''

After Game 1, McCollum estimates their phones buzzed back-and-forth six to 10 times.

"We were both thinking the same thing,'' McCollum said.
Don't underestimate the importance of two star players being able to talk shop at this granular level so soon after a loss. Communication was deemed the top issue between Lillard and LaMarcus Aldridge back in the day. That he and his partner and crime are now, by their own admission, on the same page can only be construed as a good thing.
That seems to be the vibe for this entire Blazers team. There doesn't seem to be an off-court pecking order, only an on-court one. And it's part of why you don't—or at least shouldn't—doubt their capacity to rebound from a rocky Game 1. Yes, they were picked apart by Anthony Davis pick-and-rolls. And sure, it took Lillard and McCollum a while to exert themselves. By the time they did, it was too late.
But Terry Stotts is a good coach, and the Blazers still almost won. So while this series with the Pelicans won't suddenly shift in their favor, they don't seem like the type of team that'll implode or fracture at all after forfeiting home-court advantage.