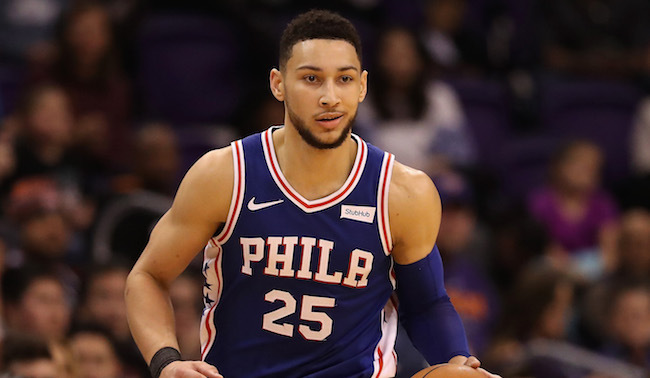 Despite being without their All-Star Center Joel Embiid, the 76ers have been the hottest team in the NBA since the beginning of March.
They set a new franchise record with their 15th straight win on Tuesday night over the Hawks, 121-113.
The 76ers have won 15 straight games, their longest in a single-season in franchise history

No team in NBA history has won 16 straight games to close out the regular season (76ers can with a win tomorrow) pic.twitter.com/YqWzOfKlaO

— ESPN Stats & Info (@ESPNStatsInfo) April 11, 2018
They are now sitting at 51-30 and can clinch the No. 3 seed in the eastern conference heading into the 2018 NBA Playoffs if they can beat the Milwaukee Bucks at home to close the season Wednesday night. They would make history with the longest winning streak entering the postseason in NBA history by doing so.
Ben Simmons has played at an All-NBA level throughout the streak averaging a triple-double over the past 15 games with 14.6 points, 10.6 assists and 10.1 rebounds.
He has put together one of the greatest rookie seasons in NBA history, and despite the bizarre and non-existent rookie season of No. 1 pick Markelle Fultz, the 76ers have progressed into borderline contender way quicker than anyone would have imagined as many thought they would have a good chance to sneak into the playoffs in 2018, not be a 50+ win team and likely finish with the 5th best record in the NBA.
The 76ers have won 26 of their last 31 games in total, as they were 25-25 at one point. They have placed themselves in the position to possibly be able to make a run to the eastern conference finals with a potential 2nd round match-up with a banged up Celtics team without two of their top three players in Kyrie Irving and Gordon Hayward.
Say what you want about the integrity of tanking, but the 76ers are proof that it can work really well.