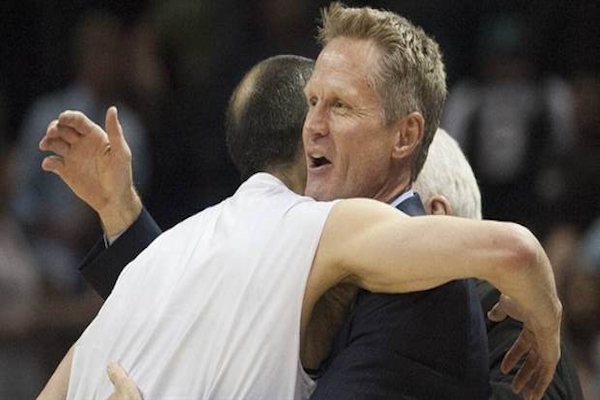 Golden State Warriors head coach Steve Kerr isn't worried about Manu Ginobili coming back for a 17th NBA season next year.
He can see Argentina's Flying Man playing well into his 50s.
Here's what Kerr said on the matter ahead of the Warriors' Monday night tilt versus the San Antonio Spurs, per the San Antonio Express-News' Tom Orsborn:
Asked if he could see Manu coming back for another season, Steve Kerr said, "Yes. I could see Manu playing when he is like 58. Honestly. He loves the game. He keeps himself in such great shape."

Elliott had the best line about Manu: 'When he drives in the lane, he looks like a squirrel running through traffic, trying to dodge cars.' "
Sign us all up for this. Yes, that means I'm speaking on your behalf.
No one should want Ginobili, who turns 31 in June, to retire before next season. He's still too ridiculously fun to watch. His efficiency from downtown has wavered, sitting below 33 percent on the year, but he continues to get by defenders with his crafty first step and dribble-fakes He's also shooting around 66 percent near the rim, his highest mark since 2013-14, according to Basketball-Reference.com.
On top of that, it would suck to see Ginobili go out like this, following a season in which Kawhi Leonard has barely played. The Spurs will probably still make the playoffs, despite playing out the league's toughest schedule since the All-Star break, because they're the Spurs. But they don't profile as a legitimate title threat without Leonard. They'll be more lethal next year when the two-time Defensive Player of the Year is presumably healthy and they've had time to flesh out their rotation with more shooting.
Ginobili can help that team. As of now, in fact, he's ticketed to be part of that team. He signed a two-year, $5 million deal over the summer, suggesting he at least plans to return for 2018-19. Perhaps that's why Kerr isn't worried. Then again, Tim Duncan still had time left on his contract when he walked away. Nothing is for certain—except our universal desire see Ginobili continue playing.