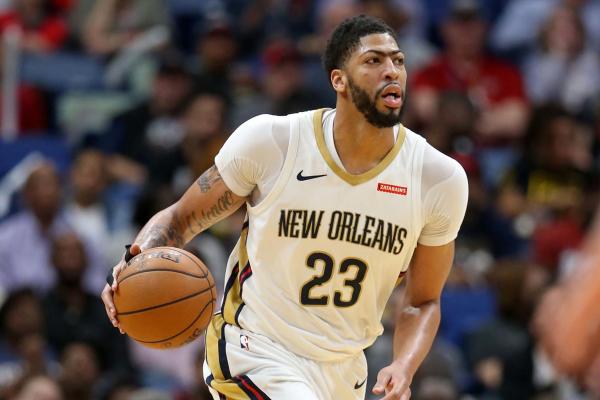 First and foremost: Breathe a sigh of relief. Anthony Davis is fine—for the most part. But he almost wasn't.
Midway through the second quarter of the New Orleans Pelicans' Tuesday night victory over the Los Angeles Clippers, Davis collided with DeAndre Jordan and immediately began favoring his side. He didn't make it back down the floor and instead headed right to the locker room, at which time this video surfaced:
And then this happened after he got back there, which doesn't seem good: pic.twitter.com/5ibBthzF93 (via @DefPenHoops)

— Dan Devine (@YourManDevine) March 7, 2018
Almost needless to say, the outlook appeared grim. Maybe the Pelicans would still win, but the worst was assumed thereafter. First DeMarcus Cousins, now Brow? Could they not catch a break?
Spoiler: They caught a break.
New Orleans announced that Davis would try to play in the second half after an MRI on his ribs came back negative:
Anthony Davis (rib contusion)

X-rays were negative. He's getting padded and will attempt to return to the game

— New Orleans Pelicans (@PelicansNBA) March 7, 2018
Great. Grand. Wonderful.
But how would he fare? Would he make it through the entire game? Would his performance suffer? Might the Pelicans forfeit their lead?
You better believe the Pelicans' lead dissipated, because the Clippers are scrappy as hell. But they still won. And Davis was his usual dominant self, as this below gif proves:
"healthy ribs, bruised ribs, no ribs, McRibs, it doesn't matter. Anthony Davis for MVP." pic.twitter.com/AswLIhWFtI

— Dan Favale (@danfavale) March 7, 2018
To say Davis was good in the second half would be an understatement. He played roughly 22 of the final 24 minutes and tallied an absurd 31 points, nine rebounds, two steals and three blocks. Again: This happened during a single half…in under 22 minutes of action…while he played through a rib contusion.
Feel free to say this is nuts, because it absolutely is. Davis finished with what has become a routine 41 points, 13 rebounds, three steals and three blocks, carrying the Pelicans at almost every turn. He turned the ball over four times, but he also hit a bunch of difficult shots and came up with a few big defensive plays.
This game, in essence, was a microcosm of the post-DeMarcus Cousins Pelicans. They jumped on Davis' back, and though he bent a little bit, he ultimately ferried them to victory—and secured their position, for now, as the Western Conference's No. 4 playoff seed in the process.