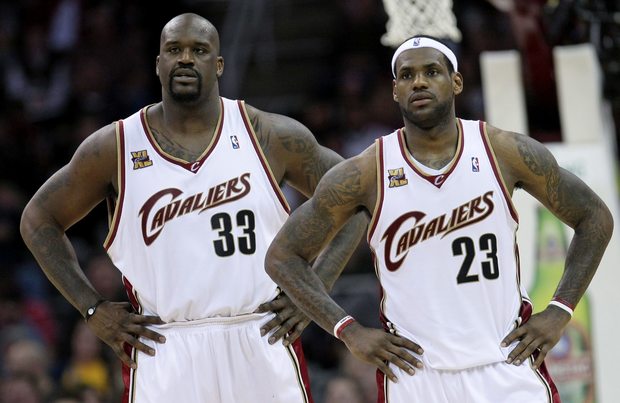 Shaquille O'Neal has some thinly veiled advice for LeBron James: sign with the Golden State Warriors this summer.
As The Big Aristotle said while making an appearance on ESPN's First Take (via NBA on TNT):
Big statement from the Big Fella ? (h/t @FirstTake) pic.twitter.com/kXNfl2fQde

— NBA on TNT (@NBAonTNT) February 15, 2018
Okay, wow. This isn't so much airtight advice as it is Shaq playing the "If I were you card," but still, wow.
Sit on these sentiments for a second or five. Go ahead. Do it.
Done? Okay, good.
Now, let's be honest with one another: Shaq has a pretty damn good point.
LeBron will be entering his age 34 season, his 16th in the league, next year. Re-signing with the Cleveland Cavaliers won't do anything to lighten his current load. Kyrie Irving is off with the Boston Celtics, so the team no longer has a clear heir apparent who can usher LeBron into his twilight. Even if the Brooklyn Nets pick turns into a special cornerstone, it'll be a couple of years before said player is ready to take the reins.
If he stays in Cleveland, LeBron has at least a few more seasons of needing to average 37 minutes per game with a usage rate north of 30. Does he really want that? Maybe. But he also has to find the idea of joining Stephen Curry and Kevin Durant, two top-five players like him, super appealing. With Golden State, for the first time in his career, he wouldn't need to be his team's end-all, be-all. That doesn't pique the interest necessarily of a 24-year-old LeBron. But a soon-to-be 34-year-old LeBron would have to recognize the long-term benefits. He might be able to play longer, and he would certainly be able to drum up his ring count.
With all this in mind, LeBron isn't going to the Warriors. Too many things have to align, not the least of which is Golden State's actual interest. Incorporating LeBron isn't like integrating Durant. He plays on the ball more; he might be at home as an off-ball cutter, but he's not the type to curl around a bunch of screens and fire up threes off the catch.
Above all else, assuming the Warriors were willing to dump the necessary salary or that LeBron was open to exercising his player option and forcing a trade, the four-time MVP knows latching on to the reigning champs would be a bad legacy play. He could win five more titles in five years with the Warriors, and people would still view his ring count (eight) as noticeably inferior to Michael Jordan's six.