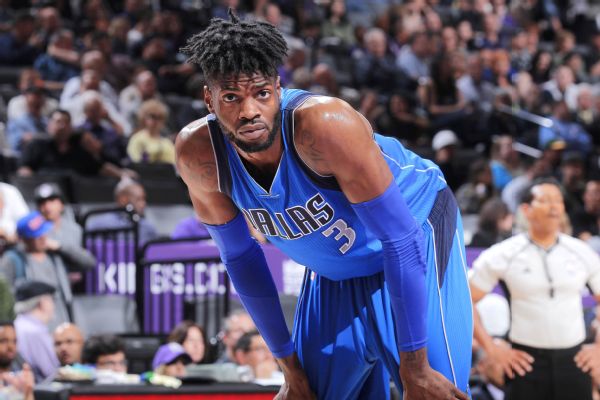 It doesn't look like Nerlens Noel is nearing the end of his brief tenure with the Dallas Mavericks.
To be sure, the 23-year-old center can leave over the summer, when he enters unrestricted free agency. But he probably isn't bolting before then. The Mavericks failed to trade him in advance of the NBA's Thursday deadline, and according to The New York Times' Marc Stein, they have no plans to turn him loose on the buyout market:
The Mavericks have no current plans to buy out big man Nerlens Noel, according to league sources. To the contrary, Dallas is hopeful it can get Noel back on the floor after the All-Star break and make another run at establishing a role for him.

— Marc Stein (@TheSteinLine) February 9, 2018
Serious question: How wild would it be if, after Noel turned town a four-year, $70 million deal last year and fell into the team's doghouse, he ends up showing out over the rest of the season only to then pen a long-term pact in July? That would be a rich dose of comedy.
Even now, with the Mavericks ostensibly trying to find a role for him, a continued marriage feels almost out of the question. Noel is still recovering from surgery on his left thumb and hasn't played since Nov. 22. And his absence isn't just the direct result of his recovery: He was out of the rotation completely when he elected to have surgery. The odds of this partnership being salvaged, considered everything that's happened since last summer, remain slim.
The Mavericks, however, could still use a center of the future—a role for which they tapped Noel at last February's trade deadline. Dirk Nowitzki plays a lot of 5 these days, but he won't be around in a year or two. Maxi Kleber has played his way into Dallas' future, but head coach Rick Carlisle prefers to stick him at power forward, with spot minutes coming at center. Salah Mejri is a restricted free agent this summer, and while the Mavericks have his Early Bird rights, it's not entirely clear how much they'll pay to keep him long term—if they want to keep him long term at all.
Noel, for his part, helped Dallas a great deal last season upon arriving. His finishing around the rim suffered a bit, and he was late on some of his rotations, but he provided a nice frontcourt balance alongside Nowitzki. If he can get healthy, remain engaged and move past the drama of last summer, then who knows, there might be a role in Dallas for him after all.