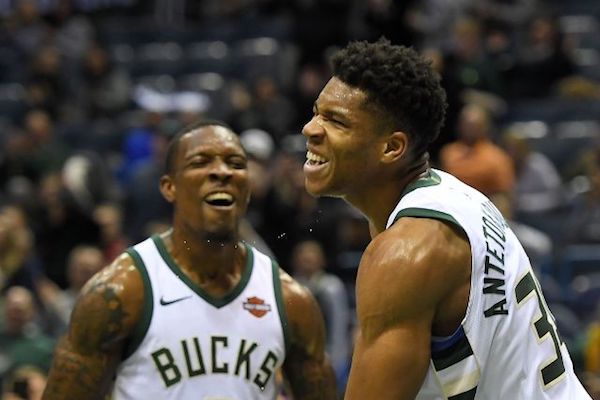 Showing Jason Kidd the door may not be the Milwaukee Bucks' final shakeup of the season.
In the aftermath of firing perhaps the NBA's most underachieving head coach, the team continues to surf the trade market for immediate upgrades, according to The New York Times' Marc Stein:
Will be fascinating to see what Milwaukee does now in the wake of Jason Kidd's dubious dismissal. Trade deadline is Feb. 8 and the Bucks — who've had Giannis, Middleton and Jabari together for ZERO minutes over the past two seasons — have been actively seeking roster upgrades.
The Bucks, to date, have been among the most recurring rumor-mill staples—if only because of their incessant links to DeAndre Jordan. It should come as no surprise that they're still looking to make waves after firing Kidd.
Getting rid of him doesn't change the cosmetic makeup of their roster. They don't have the personnel to shoot a ton of threes. They lack size on the interior. They have a woefully thin bench. And Kidd's absence won't help Jabari Parker (or Mirza Teletovic) return any sooner from their respective injuries. If they really want to make noise in the Eastern Conference this season, they'll need to do something other than wait out Parker's return.
The issue: It doesn't seem like they have the juice to do anything major.
Trading for Jordan, or someone similar, seems to be out of the question. The Bucks don't have the salary-matching tools to build a worthwhile blockbuster. Teams will want extra compensation in exchange for eating Teletovic or Matthew Dellavedova—and that's in addition to whatever the Bucks must give up to acquire the centerpiece of any deal.
Failing a sudden willingness to move Parker, Thon Maker and Malcolm Brogdon, expect whatever Milwaukee does next to be on a smaller scale. Names like Dewayne Dedmon and Kyle O'Quinn should pop up on their radar, since guys like Jordan, Marc Gasol and Kemba Walker will prove to be out of reach.