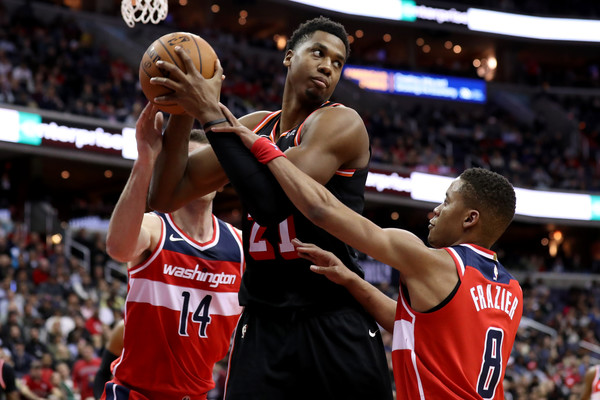 A relative lack of expendable trade assets is not deterring the Milwaukee Bucks. They're still on the hunt for an impact big man in advance of the NBA's Feb. 8 deadline.
Their latest exploration? Hassan Whiteside, according to Basketball Insiders' Steve Kyler:
The prevailing thought around the NBA is the Bucks would be open to and are pursuing a major player trade and have been linked to the Clippers and DeAndre Jordan. They also continue to be mentioned in NBA circles as having eyes for Miami's Hassan Whiteside. Its hard to imagine either deal gets done without the inclusion of Parker, so the Bucks getting a chance to see him on the court for a few games before the deadline may go a long way in cementing their decision.

Equally, Miami's impressive 10-4 run in January seems to have them backing away from significant trade talk, so if Milwaukee genuinely wants Miami to engage, it's going to take a real offer.
Here's a free spoiler: Hassan Whiteside won't be dealt to the Bucks.
The 27-year-old is hardly an asset on his current deal. He's owed $52.5 million over the next two years. But the Miami Heat have surged into contention for a top-four playoff seed. They aren't going to just give him away—not with him being so important to their defense, and their offense remaining generally touch-and-go.
And the Bucks just don't have the assets to make a truly delectable offer. John Henson, Mirza Teletovic and Matthew Dellavedova are their best salary-matching pieces, and the Heat aren't absorbing two of them to get off Whiteside—particularly when the Bucks don't have the flexibility to offer an imminent first-round pick.
Talks could get interesting if they include Jabari Parker, but even then, with the fourth-year forward getting set for restricted free agency, the Heat will probably want another asset, such as Khris Middleton, Malcolm Brogdon or Tony Snell.