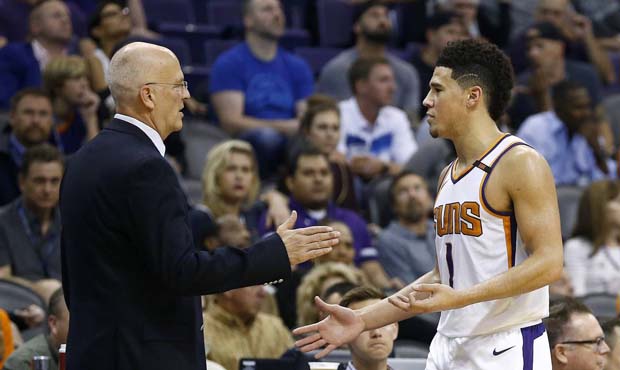 If Devin Booker had his way, the Phoenix Suns would keep interim head coach Jay Triano as Earl Watson's permanent replacement.
Unfortunately, though, he doesn't have a say in these matters. Not yet. Maybe not ever. Only a handful of franchise stars do. But that hasn't stopped him from campaigning on Triano's behalf, per AZCentral.com (h/t HoopsHype):
Booker said Monday that he'd like to see Phoenix retain interim coach Jay Triano, who has led the Suns to a 10-18 record since taking over for the fired Earl Watson three games into the season. "Me and Triano have that relationship. He's somebody I'm comfortable with and somebody I've been around for a long time," Booker said. "I love Triano. I don't make those calls (hiring a coach) but he's been doing a wonderful job since he's been here and I would vouch for him. He's been really good."
Things have, in fact, looked better for the Suns since Triano assumed the reins. They're 11-18 and still tracking towards a bottom-seven record, but there seems to be a more consistent effort on defense, and they're exploring a few different dimensions at the offensive end. They've also put forth some spirited performances as Booker recovers from a strained left adductor injury, rattling off wins against the Minnesota Timberwolves and Dallas Mavericks, while keeping it close during a loss to the Toronto Raptors.
But the odds of Triano landing the full-time gig don't appear to be good—and not just because interim head coaches are typically placeholders. That's part of it, sure. But the Suns were also criticized when they hired Watson for not conducting a thorough enough search outside the organization.
True or not, and fair or not, handing Triano a permanent title would give off the same vibe. Still, it says a lot about the job he's doing that Booker, Phoenix's most important player, remains firmly in his corner.