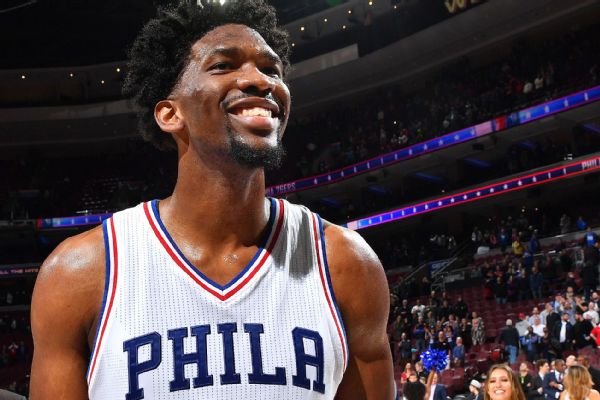 There was a time when it seemed like Joel Embiid may never have an actual NBA career and tensions were high between the No. 3 pick of the 2014 NBA Draft and the 76ers as Embiid sat out his first two seasons with foot issues and was away from the team for long periods.
While injury issues and fears still persist, Embiid is now thriving on the court and serving as the face of a suddenly very exciting young 76ers team.
Embiid is clearly feeling the love in the city of brotherly love as he told reporters that he wants to stay his whole career as a 76er.
Here is a tweet from Molly Sullivan of NBC Sports Philadelphia:
Embiid on spending entire career with one franchise: "I want to be Kobe Bryant. I want to be Tim Duncan. I want to be Dirk Nowitzki."

— Molly Sullivan (@MSullivanFrench) October 28, 2017
That obviously is a very admirable goal to have (The Admiral himself David Robinson did it in San Antonio), and should excite the organization, but time will tell how realistic that is and how committed he or the organization may be to that over the next decade.
The obvious dark joke here is that he easily could if he suffers a career-ending injury or is unable to stay healthy in the coming years, a legitimate concern that no one wants to come to fruition.
For now we can relish in the fact that we have a healthy Embiid and Ben Simmons flashing their immense potential in Philadelphia (Markelle Fultz is another story…).