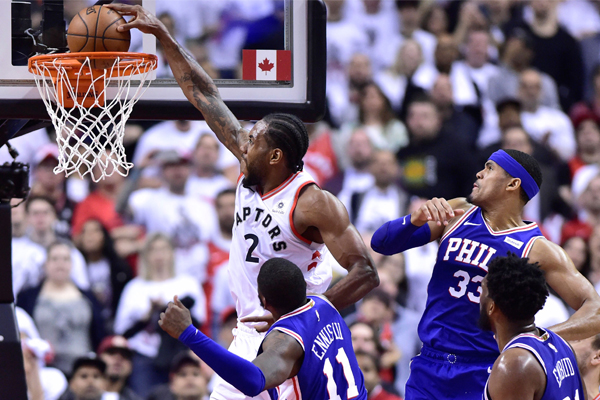 The Toronto Raptors didn't need a superhuman performance from Kawhi Leonard on Tuesday, but his 21 points sure helped.
After shouldering the load through the first four games of this playoff series, Leonard got plenty of help from his teammates in Game 5. And now the Raptors are one win away from the Eastern Conference finals.
Kawhi Leonard had 21 points and 13 rebounds and Pascal Siakam scored 25 points. Lowry had 19 points, while Danny Green had five three-pointers and 17 points for the Raptors.
If Toronto wins in Philly on Thursday they will advance to the Eastern Conference finals for the second time in four seasons.
While Leonard wasn't as strong offensively as the previous four games, his teammates more than pulled their weight.
"We're a team," Siakam said. "All year, that's what we've done. Kawhi's an amazing player, and when there's nights where he's going the way he's going, and he's scoring 40, and shooting fadeaways, and making all those shots, it's kind of amazing to see.

"But at the same time, we know we're a team, and we always have each other's back."

"We've just got to keep playing and whoever is hot that night … we have to step up, we have to play better and the whole team knows that."
Should Toronto lose game 6 in Philly, then what Embiid told Drake as he walked to the bench last night would come true, the Sixers would be back in Toronto on Sunday for a Game 7.