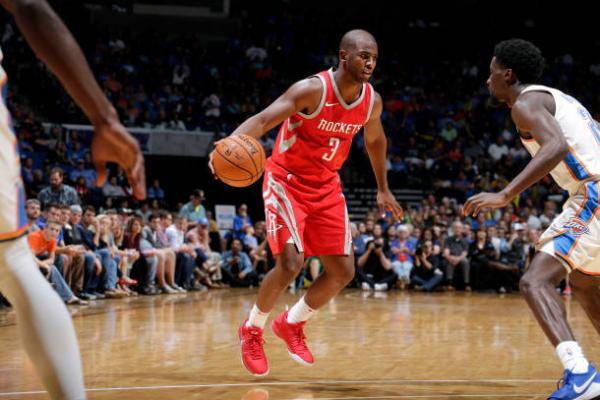 Chris Paul isn't shy about his opinion of the Houston Rockets.
The point guard is expected to be in the team's starting lineup when it faces the Phoenix Suns on Thursday, marking just the second time he will suit up for his new digs all season. He hasn't played since a bruised left knee forced him out of action during Houston's opening-night victory over the Golden State Warriors.
And, well, now that he's back, Paul knows the Rockets profile as one of the NBA's few truly elite squads, per Mark Berman of Fox 26:
Chris Paul on returning to the #Rockets starting lineup: "I've said it before. It's only a few teams in this league I think that really goes into every game knowing that they can win that game every night. I think we're one of those teams." pic.twitter.com/F16KwlruWd

— Mark Berman (@MarkBermanFox26) November 15, 2017
On the one hand, Paul isn't wrong. He's a top-10 player when healthy. And he's joining another top-10 talent in James Harden. The Rockets are scary on paper. Hell, they've been scary on paper even without him. They're 11-4, with the third-best offense in the league, according to NBA.com. Adding him to the fold feels pretty unfair.
But Paul and the Rockets also have to be careful. While he mercifully lighten's the load for Harden, who presently leads the Association in usage rate, per Basketball-Reference, the two stars will be subject to a learning curve–wrinkles and hiccups they were supposed to have addressed over the past month but haven't on account of Paul's absence.
Maybe everything comes together in seamless fashion. Both Harden and Paul are dangerous off-ball scorers. They could forge otherworldly synergy right off the bat. But Paul struggled at times in his lone regular-season appearance with Houston, seemingly unsure how or when to move while playing off the ball, and reverting to his old over-dribbling schtick when handed the keys to the offense independent of Harden. That awkwardness can, and should, and probably will, carry over to his return.
No matter, though. The Rockets always planned to work through whatever obstacles and bumps that arise as part of his arrival.
Better to do it now, months before the playoffs, when they have a mountain-sized cushion separating them from the .500 line.