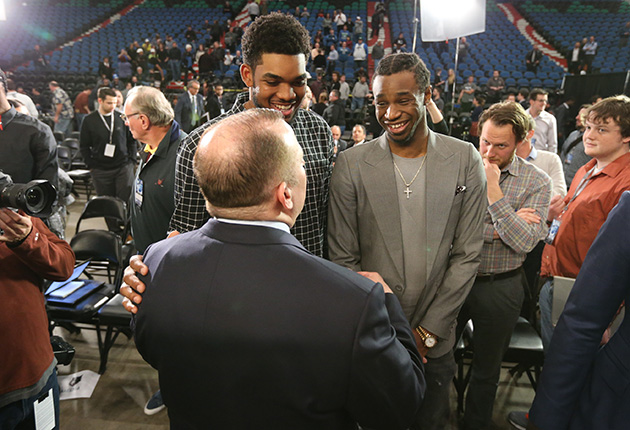 So about Andrew Wiggins' five-year, $148 million extension with the Minnesota Timberwolves…We've yet to hear confirmation that he's actually signed it, which is weird. The question is: Might this be a sign of something more sinister at play?
Timberwolves coach-president Tom Thibodeau doesn't think so, per Jerry Zgoda of the Star Tribune:
I asked Thibs is there's been a delay w/ Wiggins unsigned still. "Not really. It's all positive. I'm optimistic it will get done."

— Jerry Zgoda (@JerryZgoda) September 27, 2017
As someone who roots for chaos, I can't even begin to disagree with Thibs here.
All the dialogue that has been made public between Wiggins and the Timberwolves registers as super positive, and owner Glen Taylor hasn't once hedged against his stance that he'll handsomely pay the 22-year-old wing. And when there's this much synergy between both parties, it's hard to drum up a sense of urgency over what's essentially a technicality.
Is this Wiggins contract bound to be among the most divisive in the NBA? Absolutely. Even if you're sold on his offense—which isn't an unreasonable stance—Wiggins has yet to make strides on defense. He can be inattentive and outright passive. Metrics hate him and rightfully so. He finished 460th of a possible 468 players in ESPN's Defensive Real Plus-Minus. While he has the physical profile, at 6'8″, to really be a force, this instance isn't one in which the numbers don't align with the eye test. They do. Paying Wiggins like a superstar when he's yet to reinvent that perception will represent one of the biggest active risks in the league.
Still, just because the Timberwolves have reason to hedge here, doesn't mean they will. The absence of a definitive announcement means roughly nothing, even if, for some reason, the contract structure ends up changing. The real shock would be Wiggins entering the regular season without signing a new deal with Minnesota.