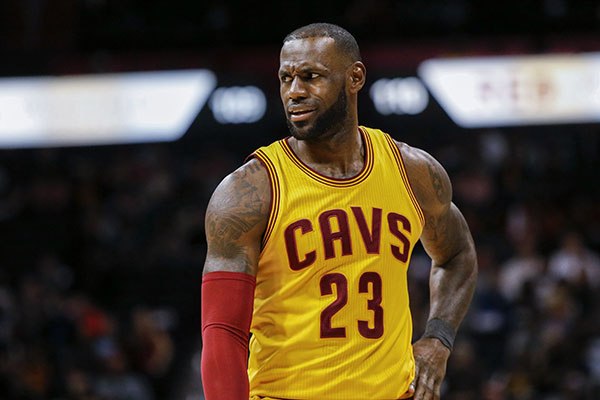 If LeBron James ends up leaving the Cleveland Cavaliers as a free agent in 2018, look no further than his relationship with owner Dan Gilbert to explain why.
Apparently.
According to longtime NBA reporter Chris Sheridan:
NBA source said today: "This will be LeBron's final season in Cleveland. He is 100 percent leaving. Relationship with owners beyond repair."

— Chris Sheridan (@sheridanhoops) August 16, 2017
This report was met with rebukes from Fox Sports Ohio's Sam Amico and Fox Sports 1's Chris Broussard:
On AmicoHoops: No truth to report LeBron James has already decided to leave #Cavs, sources say. #NBA https://t.co/CFLd3Hbbe0

— Sam Amico (@AmicoHoops) August 16, 2017
2 sources close to LeBron insist he hasn't made decision on future w/Cavs past next season & he won't make a decision before end of season.

— Chris Broussard (@Chris_Broussard) August 16, 2017
Get ready for a long season of this, folks. Speculation and rumors surrounding James' future will run rampant, as it always does when a player of his caliber seems, even slightly, like a flight risk.
It's much too early to make any declarations one way or the other. James has an entire year before he needs to make a decision, and it's unlikely he's made up his mind, irreversibly, by now. That being said, the logic here tracks. Gilbert and James have never seemed buddy-buddy, not even a upon his return. The events of this summer only complicate, if ruin, that tenuous relationship.
Never mind that the Cavaliers didn't land Jimmy Butler or Paul George. That much is forgivable. But the jettisoning of former general manager David Griffin, a James favorite, certainly implies some rocky dealings. The Cavaliers traded in a more experienced, proven resourceful GM for the more green Koby Altman. That's a weird move to make when James is one year out from free agency, and perhaps he now feels that Gilbert will never be the owner to help lead a reinvention or retooling of the Cavs.
Or maybe this is all overblown.
Or maybe another title, or a more convincing effort against the Golden State Warriors, will act as a cure-all.
We can't be sure this early in the game.