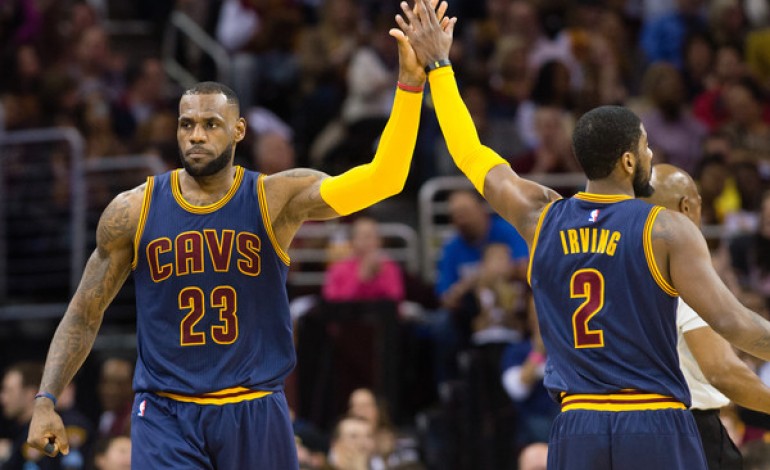 So much for LeBron James being eager for the Cleveland Cavaliers to trade Kyrie Irving in the wake of his request to play elsewhere.
On the heels of Derrick Rose agreeing to join the reigning Eastern Conference champs, Cleveland.com's Joe Vardon wrote that the four-time MVP was "eager" for the Cavaliers to deal Irving. This, apparently, was overblown. LeBron says so himself:
#NotFacts people! ?Booooo!!! Get another source. https://t.co/ubLRgWeMbt

— LeBron James (@KingJames) July 25, 2017
#NotFacts people! ?Boooo!! Get another source. ?????. #EnjoyingMySummer #YouDoTheSame ??? https://t.co/XvfRWKWdur

— LeBron James (@KingJames) July 25, 2017
So nice, LeBron needed to clarify it twice?
This is a pretty bizarre play by James. Maybe he takes exception to the fact that people are talking about how his camp must have leaked the Irving intel to drag the point guard's name through the mud. Or perhaps he's holding out hope the two can repair what is broken within their partnership.
Whatever the motivation, LeBron seems to want us to know that he's not pushing Irving out the door. Who knows, maybe this is as simple as him not wanting to be held accountable in any way for what happens next. And that's smart. Because with his free agency around the corner next summer, he'll be blamed for anything that could be perceived as failure due directly to the threat of his departure.
Fair or not, that's part of this. Irving may want to have his own team somewhere else, but there's no way James' looming free-agency decision hasn't at least in some way complicated matters.