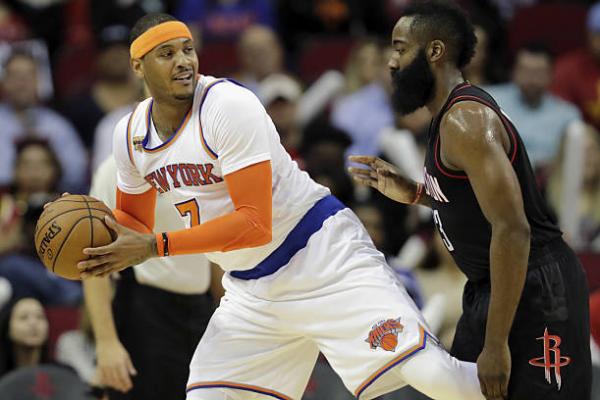 If the New York Knicks end up parting ways with Carmelo Anthony before next season, it's probably because they agreed to a buyout—or, less likely, because a suitor gave into trade demands that are ridiculously hard to meet under the circumstances.
This seems to be the sentiment emanating out of the league, since the Knicks have told teams they won't be taking back long-term money for oldish players as part of any deal, per ESPN.com's Ian Begley:
Carmelo Anthony is willing to leave New York. The Knicks are willing to trade him. But can anyone come up with an offer for Anthony that the Knicks are willing to accept?

That's what several NBA front-office members were wondering Monday morning after ESPN's Adrian Wojnarowski reported Anthony is willing to waive his no-trade clause to join Houston or Cleveland.

"That's not an easy proposition for either team," one executive says about a possible Melo trade.Here's why things are complicated: The Knicks have told people they don't want to take back older players on longer contracts in any transaction. At the same time, many in the organization feel it's best to trade Anthony. So that leaves New York in a tricky negotiating position.
To the Knicks' credit, there's nothing wrong with this logic. This is absolutely the stance they should assume. They shouldn't be accepting Ryan Anderson's deal as part of a Melo trade, nor should they take whatever collection of non-Kevin Love contracts the Cleveland Cavaliers are probably offering.
But playing the correct card doesn't mean the Knicks are going to win this hand. Melo is slated to earned $26.2 million next season. That's not a bad contract in a vacuum, but it's not salary teams he would be interested in playing for can absorb without sending back ample money.
Suitors without cap space can take back 125 percent plus $100,000 of the outgoing salary in this situation. That means they need to ship the Knicks around $20.9 million in contracts. That number can get fudged a bit if the squad has any cap space whatsoever, but even then, you're still forced to take back substantial money. And you know who makes that kind of cash: Superstars and older players.
The Knicks aren't getting a superstar for Anthony, and they aren't letting themselves take on a collection of overpaid senior citizens. Failing a (misguided) shift in ideology, Anthony is more likely to begin next year in New York or cave to the situation and broker a steeply discounted buyout.