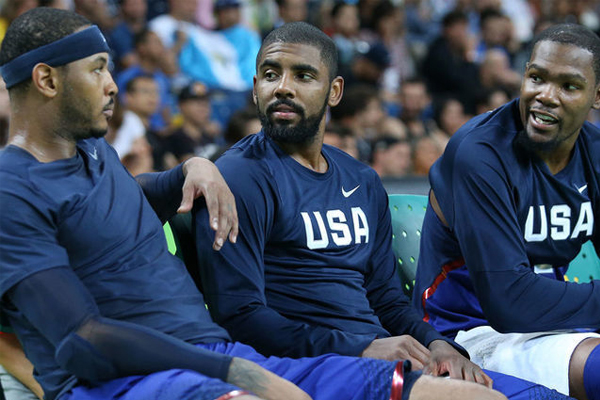 The Brooklyn Nets are interested Carmelo Anthony, and stars Kyrie Irving and Kevin Durant are "pushing" the club to sign the free-agent this summer.
Anthony, who is a Brooklyn native, is participating in the Knicks informal scrimmages but both the Nets GM and head coach have watched Melo train this summer and are expressing interest in the vet.
Durant and Irving have both played with Melo on Team USA and would like nothing more than to have him join them in Brooklyn.
Anthony has expressed desire to return to the NBA for the 2019-20 campaign stating that he would be willing to accept any role.
"I know I can still play," Anthony said earlier this month. "My peers know I can still play. I don't think it's about basketball anymore. I think it's about me as a person willing to accept certain roles on basketball teams. Am I willing to accept a certain role on a basketball team? Yes."
He has now been linked to the 76ers, the Clippers and the Lakers but the Nets seem like the most logical fit considering that Durant will be out with a torn achilles and Chandler has been suspended for 25 games.