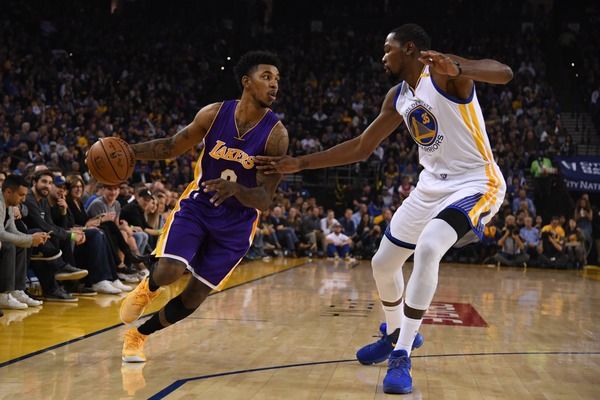 Post-NBA Finals Kevin Durant Twitter is awesome.
Earlier on his in career, Durant was pretty forthright on the 140-character machine. As time went on, he began to shut down and become more diplomatic. There would be the occasional fire tweet or troll burn, but like many big-time athletes, his feed felt contrived and, oftentimes, neglected.
But not anymore.
Winning a title with the Golden State Warriors has validated Durant, and spending time in their culture has lightened his mood. He appears less uptight and more candid, in a "This is me, and I'm cool with it, so deal with it" kind of way.
Okay, I'll stop psychoanalyzing one of the greatest NBA players ever and get down to business.
The Warriors signed Nick Young on Wednesday for the taxpayer's mid-level exception, as first reported by ESPN.com's Adrian Wojnarowski. It's about time something went right for them, you know?
Anyhow, this isn't news. Young will fit in perfectly with the Warriors' culture and play style. That's the point. And why we know this is the bigger point.
Shortly after the news broke, Durant roasted Young with this tweet:
— Kevin Durant (@KDTrey5) July 5, 2017
The screenshot is taken from Young's epic celebration gone wrong. He decided to tout a made three-point that…ended up not going in.
Here's the play in full:
This is all in good fun, of course. Young is the type of player you can needle without it being misinterpreted as personal potshots, and the Warriors have assembled the kind of team that throws faux-shade at everyone equally.
Durant himself is now quintessential proof that their culture is infectious. Just imagine what's going to happen in the locker room now, with him, Swaggy P, Andre Iguodala, Draymond Green and, hopefully, JaVale McGee setting the tone for absurdity.
Next season is going to be fun.