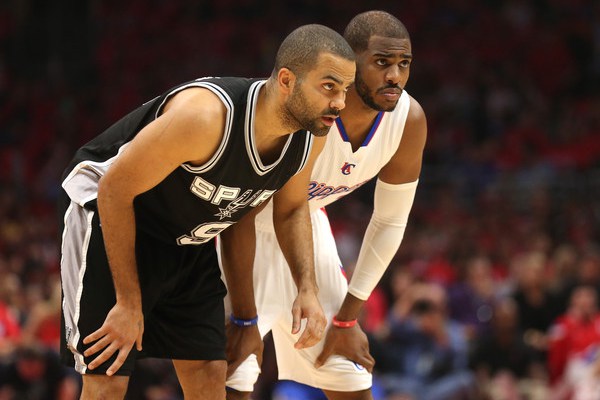 Admit it: You've thought about Chris Paul playing for the San Antonio Spurs. It seems too perfect. He is perhaps the best, or second-best, point guard of all time, and the Spurs are billboards for dominance who just so happen to be going through an uneasy time at Paul's position. Tony Parker is 35 and recovering from a torn left squad, Patty Mills is a free agent and Dejounte Murray is only 20 years old.
Might there be truth, then, to the frequently floated idea/conspiracy/irrational hope that Paul signs with San Antonio?
Maybe.
Speaking to ESPN.com colleague Kevin Arnovitz on The Lowe Post podcast, Zach Lowe intimated there might be some traces of truth to the madness (via ESPN):
"There's been a lot of rumblings about Chris Paul, and I think that's real," Lowe says. "I think there's mutual interest there. I don't know how real it is given the Clippers can offer a gigantic amount of money and are also a really good team; and the Spurs, like I said, have no sort of cap flexibility to get there. I'm very curious about what they do this summer and who's on the team next year."
Before you go pre-ordering your CP3 Spurs jersey, know that this is a long shot. Paul is eligible for a max salary that pays him $35.4 million the first year of his next deal, and San Antonio will begin the summer over the cap.
Renounce the rights to all their own free agents and non-guaranteed deals, and they can get to around $10 million in room. And that's with Pau Gasol opting into the final year of his deal, as most expect him to do. Where is that extra $35 million from? Salary dumps.
Trading LaMarcus Aldridge and Danny Green gets the Spurs there, but the latter is much too valuable on defense, particularly with this scenario including the departure of Jonathon Simmons. And while Aldridge has struggled at times to fit in, is he really a player you dump.
Ideally, the Spurs would offload Gasol's $16.2 million salary, then waive Parker, stretching his $15.5 million salary across the next three seasons. That opens up about $26.2 million in additional room if they don't have to take back anything in a Gasol deal.
But is Chris Paul, at 32, worth gutting the roster for? Would the Spurs actually consider moving or waiving Parker? Might Paul consider taking substantially less so he's not, under the best circumstances, joining a roster that includes only Kawhi Leonard, Green and filler (basically)?
There's a lot to dissect here. More importantly, there's a lot of hoops the Spurs must jump through before they become a legitimate option for Paul.