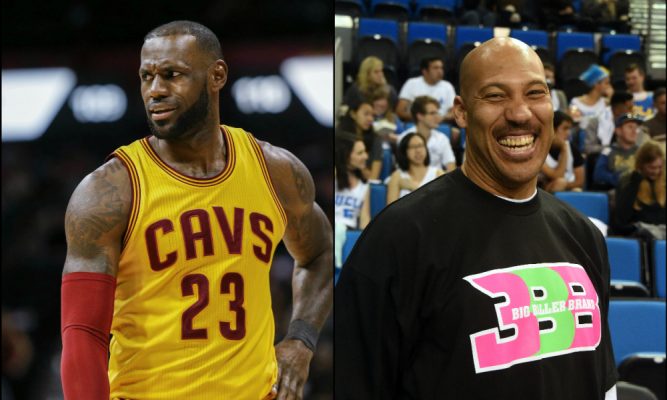 LaVar Ball, father of star UCLA freshman point guard and top 2017 NBA Draft prospect Lonzo Ball, has made himself famous with his seemingly never-ending stream of controversial and foolish comments. He has called his son better than Steph Curry, himself better than Michael Jordan in his heyday basically, and that he, LaVar, could beat Charles Barkley in 1-on-1 today after Barkley called his comments "stupidity."
Now he has managed to draw the ire of LeBron James.
Ball was on Chris Broussard's podcast (why do we keep giving him a platform?) and basically said that the NBA's greatest legends who had fathers that played professional basketball were all considerably better than their fathers, none of which are stars. He then used that logic to basically say that LeBron James Jr. will never develop into a great player because of his dad's immense success.
Seems logical right?
Here is a quote from the Broussard podcast:
"You got LeBron, it's going to be hard for his kids because they are going to look at them like, 'You got to be just like your dad.' And after a while, that pressure starts sitting on you like, 'Why do I got to be just like him? What can't I just be me?' And then they are going to be like, 'Aw, you're soft, you're not that good.' Because the expectation is very, very high."
While you can understand the sentiment if presented differently and from an individual with more credibility, it is still in poor taste to detail the difficulties of a 12-year-old and 9-year-old kid (LeBron Jr. and Bryce's ages) and LeBron didn't take too kindly to it as he told ESPN on Tuesday.
"Keep my kids' name out of your mouth, keep my family out of your mouth," James said. "This is dad to dad. It's a problem now."
One can only hope the LaVar Ball's 15 minutes of fame are over soon, regardless of how successful his son is in the NBA.