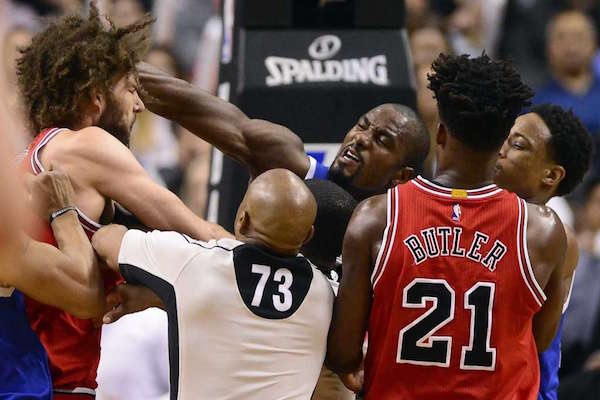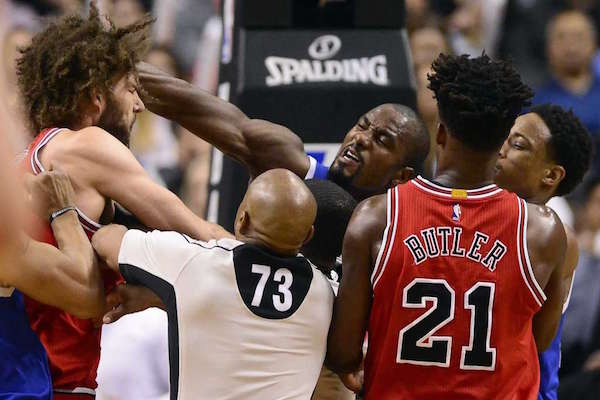 Serge Ibaka and Robin Lopez got into it during the Toronto Raptors' Tuesday night overtime victory against the Chicago Bulls. The scene was so contentious, suspensions have to be coming.
And Robin Lopez knows it, per the Chicago Tribune's K.C. Johnson:
Lopez: "I'm expecting to be suspended."

— K.C. Johnson (@KCJHoop) March 22, 2017
Jimmy Butler, who charged into the initial scrum but then took a step back, essentially removing himself from the situation, expects Lopez to be suspended too:
Butler on Lopez: "Obviously, he's going to be suspended. We know that."

— K.C. Johnson (@KCJHoop) March 22, 2017
Here's a clip of the incident in which you'll see Lopez, at least physically, serving as the instigator, per SI.com's Ben Golliver:
Bulls' Robin Lopez and Raptors' Serge Ibaka exchange punches, get ejected (all angles) pic.twitter.com/uxVm321tPc

— Ben Golliver (@BenGolliver) March 22, 2017
And this is what Ibaka had to say about the fracas, per TSN Sports' Josh Lewenberg:
Serge Ibaka on the skirmish: "Like a man, I had to defend myself… I'm not just going to be out there and watch a man like him punch me" pic.twitter.com/wJh4kFRGqw

— Josh Lewenberg (@JLew1050) March 22, 2017
Suspensions could end up playing a pivotal part in shaping the playoff race. Or, you know, maybe not.
The Bulls are now 10th in the Eastern Conference, two games behind the eighth-place Miami Heat, with the Detroit Pistons in front of them. They seem done, with or without Lopez.
The Raptors, meanwhile, seem locked into the four-seed. They have a 4.5 game-lead over the fifth-place Atlanta Hawks, and while the third-place Washington Wizards are just a half-game in front of them, getting that three-seed always felt like a tall order without Kyle Lowry in the lineup.
Ibaka's absence, however brief, would throw a wrench in that pursuit. But, with the season series between Toronto and Chicago now over, that's the extent of the long-term impact this scuffle will have.