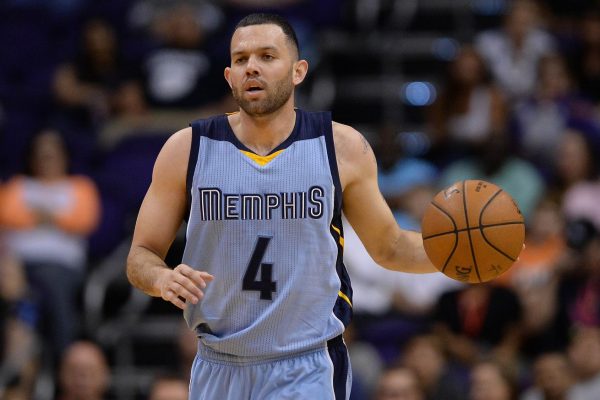 And the winner of the Cleveland Cavaliers' search for another playmaker to appease LeBron James is…we don't know. Not yet anyway.
But it looks like it's going to be Jordan Farmar.
From ESPN.com's Dave McMenamin:
A leader has emerged from the Cleveland Cavaliers' free-agent minicamp Wednesday in the luxury-tax-laden team's search for an additional playmaker: Jordan Farmar.

Farmar was given assurances that if anyone was to be signed by the Cavs from the workout, it would be him, a source familiar with the workout told ESPN.

Aside from an impressive showing by Farmar on Wednesday, there was a practical side to Cleveland's interest. According to a source, Farmar is open to signing a 10-day contract — as is Lance Stephenson — while a league source told ESPN that both Mario Chalmers and Kirk Hinrich would only agree to join the team if the Cavs tendered a guaranteed contract for the rest of the season.
It's interesting that Mario Chalmers won't sign a 10-day contract. He's made over $22 million for his career, so perhaps he views that as leverage over the state of his Achilles. Or maybe he just doesn't want to spend 20 days with the Cavaliers (two 10-day contracts) only to be sent packing once they find someone better on the buyout market. That's where all of this seems headed.
Though general manager David Griffin operates more independently of LeBron than most people think, it's weird that he has delayed an acquisition for this long when his headlining star is playing so many minutes and been quick to express displeasure with the squad's top-heaviness. But the delay makes sense when you consider that each year, after the trade deadline, the buyout market yields options we didn't know existed. So by holding off on adding someone until now, Griffin has put the Cavaliers in a position to evaluate someone for the next 20 days while monitoring the secondary market. It's low-key genius.
Farmar, for his part, fits the mold of what Cleveland is looking for, kind of like a healthy Chalmers. He isn't going to set the world on fire defensively, but he can direct the offense for short stretches as the primary pilot, or he can play off the ball as a spot-up sniper—a prerequisite when you're a point guard joining LeBron and Kyrie Irving.
Let's just see if he, or anyone else the Cavaliers sign, sticks with the team beyond the next three weeks or so.