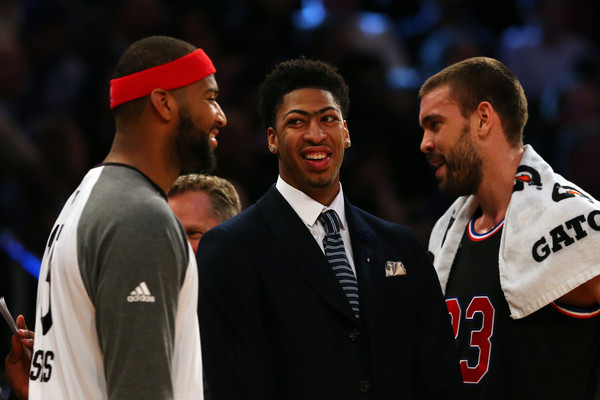 The grind never stops for Anthony Davis.
While NBA All-Star weekend is supposed to be a relaxing and entertaining time, it's also a recruiting summit. And no players have more of incentive to recruit soon-to-be free agents than those from host cities. In this case, that's New Orleans, which means Davis will spend a good chunk of time showing off his digs to fellow superstars, per the Associated Press (via NBC Sports):
During All-Star weekend, the face of the Pelicans franchise will have a chance to exhibit why building a winner in the Big Easy matters to him. And if his enthusiasm for his adopted hometown proves contagious among some of the elite talent gathering in the NBA's Gulf South outpost, all the better for the "Brow."

"I was definitely excited for All-Star to come to New Orleans again; New Orleans is a fun place," said Davis, who was a second-year pro and first-time All-Star when the NBA's annual marquee event last came to the city in 2014. "It will be a good chance for other players to experience our city, the culture in New Orleans with Mardi Gras and all, and see why we feel New Orleans is one the best places to play basketball as far as the fan base that we have and the culture of the city and everything like that." …

While Davis doesn't expect to spend the whole weekend recruiting, he acknowledged that playing host to the NBA's elite gives him an opportunity to help them envision what it might be like if, via a trade or free agency, they wound up joining him.

"There definitely is a time for that," Davis said. "The main focus is for everybody to just go out there and have fun."
The Pelicans have the ability to carve out close to max room this summer while keeping Jrue Holiday's hold on the books. If they find a way to dump one or more of Omer Asik's, Alexis Ajinca's and Solomon Hill's deals, they'll be able to manufacture max space without issue.
As luck would have it, there are a few upcoming free agents who Davis can focus on. Kevin Durant (player option) isn't leaving the Golden State Warriors, but Paul Millsap (player option) and Gordon Hayward (player option) can rank as potential targets. DeAndre Jordan (player option), DeMarcus Cousins and Paul George (player option) are all slated to hit the open market in 2018. Davis can always test out Russell Westbrook's plans as well; though he's expected to stick with the Oklahoma City Thunder, he, too, has a player option for 2018.
So godspeed, Anthony Davis. You know better than anyone your Pelicans need another star.