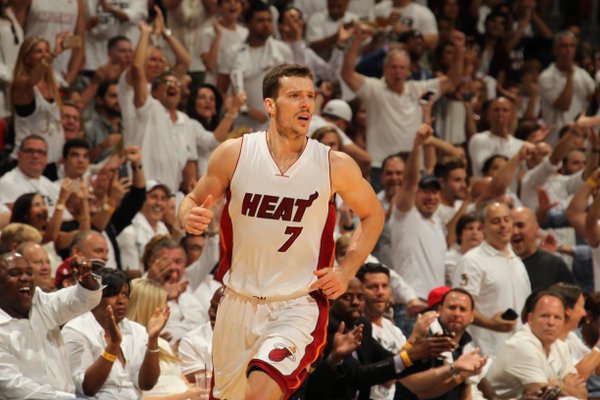 Now that the Miami Heat are rebuilding, a 30-year-old Goran Dragic suddenly feels out of place.
Sure, the Heat can use him to pitch superstar free agents on relocating to Miami; after all, it often takes incumbent stars to reel in outside headliners. But Dragic isn't the best of stars, and the NBA's new collective bargaining agreement makes it tougher than ever to poach opposing talent.
Besides, Dragic's value has never been higher. The Heat's offense is actually watchable with him on the floor, and he's shooting an absurd percentage from downtown. He has three years left on his contract after this one—a deal he signed before the salary-cap boom, making him that much more attractive. If the Heat ever wanted to guarantee they would get more than the two first-rounders they gave up for him in 2015, now would be the time to move him.
And Dragic, for his part, is open to a trade, according to The Vertical's Chris Mannix:
Dragic is a dilemma. When Dragic forced a trade to Miami two years ago, he thought he was joining a team one piece away — him — from being a conference contender. Today he's leading a roster that's a couple of losses from falling below Philadelphia in the East basement. Dragic is open to a trade, league sources told The Vertical, and Miami has pursued that option. An early season swap with Sacramento for Rudy Gay fell apart when the Heat sought Darren Collison, sources said, and teams that have probed Miami about Dragic have found the Heat open to offers.
It's beyond weird that the Kings wouldn't give up Darren Collison in a trade for Dragic. Unless they were also forking over more unprotected picks, it makes no sense.
Maybe Dragic's age or his struggles alongside Dwyane Wade are a deterrent. He is, at the end of the day, putting up numbers on the third-worst team in the Eastern Conference.
Still, now that we're so deep into the season, the Heat should be able to secure monster gains if they move him. He's playing that well, even relative to someone who mans the deepest position in the league.