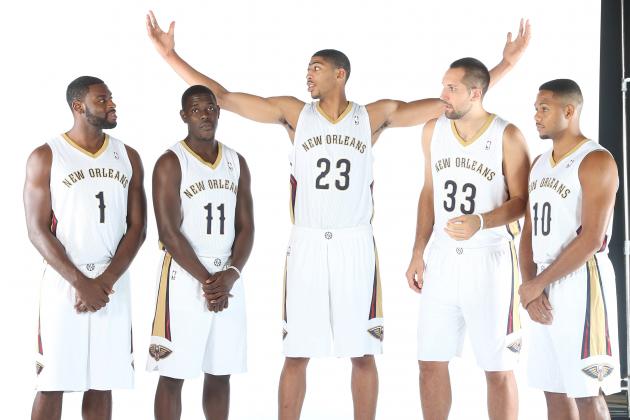 Anthony Davis does not seem broken up about the departures of Ryan Anderson and Eric Gordon, both of whom left the New Orleans Pelicans for the Houston Rockets as unrestricted free agents.
Of course, Davis' ostensible indifference to the situation may have something to do with the fact that he didn't try getting either of them to say. As he said in an interview SLAM's Christopher Cason:
SLAM: By getting younger, you guys did lose two pieces of your core in Ryan Anderson and Eric Gordon. They got offers they couldn't turn down from Houston, but was it tough to see them go with them being here since you entered the League?

AD: It was their decisions. They were free agents and they tested the market. I didn't talk to them or have any idea what their thinking was. Both of those guys are exceptional talents. I have nothing against them. When I see them, we're still going to kick it like we're on the same team. Those guys are great players. Both of them can score the ball, can shoot and I'm happy that they're back on the same team again. I just can't wait to play them. Those are our first two preseason games—against Houston in China. It's going to be fun playing against them guys. They're going to know what we run. We're going to know what they like to do, so it's going to be fun and I'm excited about playing them.
There you have it: Davis is a terrible free-agent recruiter and a pretty bad leader.
Yes, I'm kidding. There doesn't appear to be any bad will lingering between him and Anderson and/or Gordon. Their time together was marred by injuries to all three of them, though mostly Davis and Gordon. The Pelicans peaked with their former core during that time, and it was time to move on.
Would Davis prefer the Pelicans be paying Anderson $80 million over the next four years rather than paying anything to Omer Asik over the next four years? Probably. But the team needed to get younger without cheating themselves of flexibility in 2017. They did just that, taking inexpensive or properly priced fliers on Solomon Hill, Terrence Jones, Langston Galloway and Tim Frazier.
Those additions may not make them a playoff team. Tyreke Evans won't be ready to start the season; Jrue Holiday has been far from healthy in New Orleans; and rookie Buddy Hield should be given extensive playing time, and thus the freedom to make mistakes.
At the very least, if the Pelicans are close to full strength next season, they should be fun to watch. And that's a win for a team that took a giant step back last year.